Eastern UP's women have a choice, not a say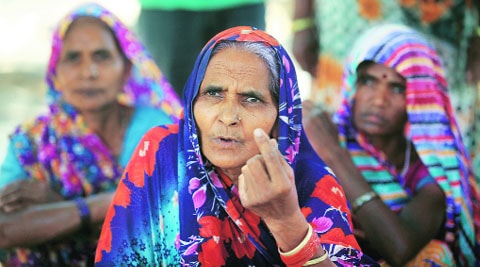 Women in Jaunpur: they will vote as their husbands say. (Vishal Srivastav)
gram pradhan, she says her vote is where the family says.
In a Dalit basti of Kuwarda village, Shanti Devi, Asha Kumar, Rajkumari and other women gather when they know someone wants to know their preference. They take over a minute to think about who the BSP candidate is but no one among the 20 women can remember candidate Subash Pandey's name.
"They know where our vote will be and never bother to ask us. The lephant (BSP symbol) is our only option, what is the guarantee about others?" They feel Mayawati wants to empower them but her workers are the "real culprits". None of them has ever seen Mayawati in person.
At Tullapur Mazara of Rehati village of Macchalishahr Lok Sabha constituency, many families have members working in Maharashtra and Gujarat. Where family members have gone to Gujarat, there is talk about Modi. In families with members in Maharashtra, local factors and caste are what count.
Tara Yadav lives in Mumbai with her family and is a labourer. She and her family are in the village to vote. She says she is an SP supporter. "Mulayam to apna bhai hai, apna vote to usike liye."
Prantu Devi says, "Aapan baat kara. Sabahi cycle pe na charna chahat (you talk about yourself, everyone does not want to ride on cycle)." She admits that while her vote will go where her husband says, she personally likes Modi's offer of ache din (good days).
Saudulari, an Ahir (Yadav), filling water containers at a handpump with other women in Wazidpur, says, "Ababhi, abahi hum sab baat kareli rahi ki kamal aur jharu ki baat chali ha, dekha aj raat mansedu kika vote dale khatin kahen (We were just discussing there are talks of the lotus and broom; let us see today, where our men ask us to vote)".
A young girl says, "jhadu.. jhadu" as other women try to stop her. Asked about it, the girl says, "The broom, because youngsters are campaigning for it and their leader is a nice person" She does not know the name of Arvind Kejriwal.
Saudulari sums it up: "We will be told tonight whom to vote for."