Eastern UP's women have a choice, not a say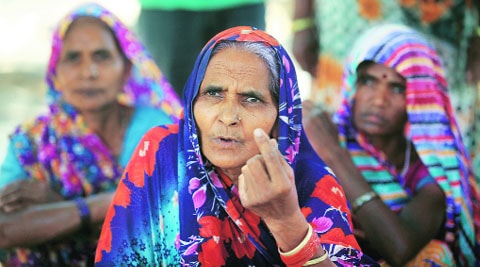 Women in Jaunpur: they will vote as their husbands say. (Vishal Srivastav)
"During elections, they (leaders) call us mother, sister, sister in-law, bow before us, touch our feet. But when it comes to vote, they only talk to men because they know men decide our votes," a woman in Uttar Pradesh says in the local dialect when asked about her choice
Women in eastern UP do seem to have their own views about candidates but on voting day, it's still the men who decide.
There are 1.25 crore women voters for the final phase of the polls in Uttar Pradesh on Monday on May 12. On the eve of polls, The Indian Express spoke to over 100 women in various constituencies to learn about their political leanings. They generally had an opinion but abide by what their husbands or male heads of the family decide.
During household chores, often out of earshot of males, they often speak their minds about "most talked about politicians" and but none dares vote for them. They consider it "cheating their family". This view in general sweeps across "male-dominated" Poorvanchal belt.
Usually, women are told the night before polling whom they should vote for and how to vote.
Many feel Narendra Modi "would bring good times", "control inflation", "reduce prices of LPG cylinders, vegetables and pulses". However, all of them said their vote would go where their family decides, and caste is a factor in that.
Dalit women among those asked for their opinion felt let down by BSP candidates of other castes (especially upper caste) but pin their hopes on party chief Mayawati. At some places, young girls voiced their opinion but were silenced by senior female members of the family.
In Jaunpur city, 35-year-old Namita Tiwari and 29-year-old Shipra Tiwari are asked about their preference. Shipra, a graduate, replies, "We feel Modi can run the country better."
Asked why, she says it is just a "feeling" she got from advertisements between TV serials. She hopes price rise will be controlled. Asked whether they will vote according to their choice, one says, "We do tease our husbands we are going to vote as we please, maybe for actor Ravi Kishan, but we will vote where our husbands feel comfortable."
Actor Ravi Kishan is the Congress candidate in Jaunpur.
Outside Firozpur village, Naseebunnisha and Munni run their bangle shops. After much persuasion they speak. "It is hard to judge these days. No one really cares for poor Muslims. There is no electricity, we are illiterate and hardly have time to think beyond our own problems," said Naseebunnisha.
In Bahrona village, 55-year-old Heerawati Yadav is gram pradhan but her husband Subedar Yadav, known as "Pradhan pati" is de facto gram pradhan. Asked her view, Heerawati lowers her voice. "Women want to vote for change." Asked what change, she says, "You should understand. We have seen enough of Mayawati, Mulayam and Congress."
Despite being the …continued »