Dravidian majors take election joyride on UPA's flagship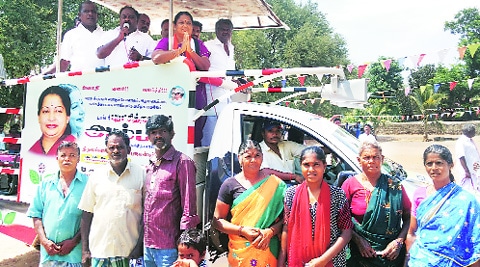 Amma in the background, AIADMK candidate R Vanoraja poses with NREGA workers. Vinay Sitapati
The sun above dulls her head, the baked earth burns her soles. Malar, in her forties, is one of 113 women watering babul trees in Tiruvannamalai constituency in Tamil Nadu. Asked what she gets for her sweat, she replies: "Rs 148 a day in my bank." These women are toiling in the sun as part of NREGA, the Rs 33,000 crore-a-year national employment guarantee scheme. Farm workers all, they could do with the extra income. A group of 15 women now gather around Malar. Their constituency goes to vote on Thursday.
Whom do they credit for this scheme; whom will they vote to thank? One voice whispers "Sonia", but the rest are confused. "The scheme is monitored by our panchayat" — the village-level body that regional parties DMK and AIADMK dominate. "It is thanks to them."
Tiruvannamalai is the district where NREGA has been best implemented in recent years, according to government statistics analysed by The Indian Express. NREGA gives a rural family 100 days of paid work a year. One way to calculate the scheme's implementation is from the total "persondays" a district provides every year. Compared to 2009, an additional 165 lakh persondays were provided in Tiruvannamalai in 2013, the highest increase from among 636 districts analysed. The UPA's flagship welfare programme, NREGA is chanted by Rahul Gandhi ceaselessly. The irony is that the best recent implementation is in a non-Congress state, by a district with a non-Congress MP.
Other Tamil Nadu districts too score well, and for a simple reason. Its powerful Dravidian parties, DMK and AIADMK, have long mixed identity politics with welfare schemes. The midday meal scheme was the brainchild of Congress chief minister K Kamaraj back in 1956. His non-Congress successors have since turned freebies into an art form. Parties now compete to gift colour TVs, gunny bags of rice, and milch cows to voters.
These schemes are implemented by a local bureaucracy that is motivated and responsive. An IAS officer posted in Chennai says: "Sometimes when I go to a village [government] building on Sunday, I see [local] officials working. In no other state does this happen." When this reporter visited the district's rural development office, he found computer-laden desks humming with quiet activity. Sticklers for protocol, state government officials refused requests for an interview, fearing that political talk by bureaucrats in election season might invite the wrath of the Election Commission.
Tamil Nadu has tweaked NREGA to improve it further. "We have a rule that 100 per cent of the money should go into wages, not construction [costs]," says a district official in charge of the programme. Korandairaj, a wizened farm worker, points to dry swaths of land near his village. He and his wife have built ponds and cleaned canals here as part of NREGA. This needs …continued »