Don't want Hooda aide, Bellary man in NDA: Sushma Swaraj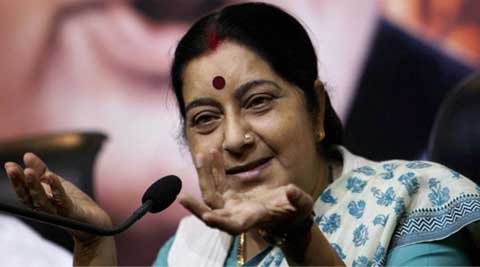 Swaraj tweeted her opposition to the planned merger of Sreeramulu's BSR Congress with the BJP in Karnataka. (PTI)
Sushma Swaraj on Thursday went public with her disapproval of moves to get B Sreeramulu and Venod Sharma into the NDA tent, betraying the unease in a section of the BJP over the party's outreach to disparate ideologies and leaders in order to bulk up in numbers.
Swaraj tweeted her opposition to the planned merger of Sreeramulu's BSR Congress with the BJP in Karnataka, and to Haryana's rebel Congress MLA Venod Sharma's attempt to enter the NDA through the Haryana Janhit Congress (HJC) of Kuldeep Bishnoi.
"I am opposed to the BSR alliance or merger with BJP in Karnataka. I have conveyed to Shri Raj Nath Singhji in writing that BJP must not permit this," the Leader of Opposition in Lok Sabha tweeted.
On the proposed entry of Sharma into the HJC, Swaraj tweeted, "I am strongly opposed to this. I have conveyed my views to Shri Kuldeep Bishnoi." The HJC, which was expected to field Sharma from Karnal, is a BJP ally.
Sreeramulu, a close associate of jailed mining baron Janardhana Reddy, had on Wednesday announced plans to merge his BSR Congress with the BJP. The BJP had not officially confirmed the merger, but Sreeramulu was learnt to have got the green signal from the party.
Sharma is considered to be a close associate of Haryana Chief Minister Bhupinder Singh Hooda.
While Swaraj proactively disowned the move to embrace Sreeramulu and Sharma, the rest of the BJP leadership maintained a curious silence on Thursday. Spokesperson Meenakshi Lekhi offered "no comments" during a press conference at the party headquarters.
The tweet on Sharma led to the cancellation of the Haryana leader's induction into the HJC on Thursday.
BJP sources said Sharma's move to enter the HJC had the blessings of some top BJP leaders, who advised him to take this route into the NDA. According to these sources, Swaraj's tweets on Thursday were provoked by the emergent impression that she had blessed both the Haryana and Karnataka moves.
Swaraj was learnt to have objected to Sreeramulu's return when it was first proposed after former chief minister B S Yeddyurappa came back to the  BJP in January. Senior Karnataka BJP leaders including Yeddyurappa met Rajnath Singh in early February to ask him to let Sreeramulu's BSR Congress into the BJP. But Rajnath, who knew of Swaraj's objections, gave them no assurance.
Party sources indicated that Narendra Modi, who addressed a rally with Yeddyurappa last month, was keen to get Sreeramulu back to bolster prospects in Karnataka. Yeddyurappa, the sources said, had also lobbied with Leader of Opposition in Rajya Sabha Arun Jaitley to get Swaraj to soften her line on Sreeramulu.
Swaraj did not say on Twitter why she was opposed to the BSR Congress's merger with the BJP. But it is reliably learnt that she …continued »