Don't vote for 'outsiders', says Priyanka Gandhi in Amethi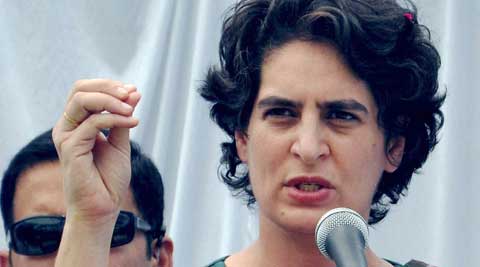 Priyanka lashed out at Rahul's opponents, saying they had no understanding of Amethi and its people.
Campaigning for her brother Rahul, Priyanka Gandhi on Saturday asked the electorate here not to vote for "outsiders", an apparent reference his rivals Smriti Irani of BJP and AAP's Kumar Vishwas.
Priyanka sought to strike an emotional chord with the electorate by invoking her family's ties with the region saying Amethi was a "holy land" for her family and described Rahul as a visionary like their father Rajiv Gandhi.
"Many candidates come here and say that there is no electricity or no development here. I want to ask the candidate who contested from Chandni Chowk (Lok Sabha constituency in Delhi), whether she went there again after the polls," she said.
Addressing a public gathering in Amethi, Priyanka lashed out at Rahul's opponents, saying they had no understanding of Amethi and its people.
Priyanka said she was sure that people of Amethi would be able to distinguish between "drama and reality" during the elections.
Hitting out at Bharatiya Janata Party (BJP) Amethi candidate Smriti Irani, Priyanka said, "She contested an election from Chandni Chowk, but never went back to the area."
Asserting that other contenders were not in Amethi to stay back, Priyanka said that for her family, coming to the area was like coming to a holy land.
She also attacked the critics of Rahul Gandhi, saying the people who mock him today are the same who mocked her father Rajiv Gandhi when he talked of development and computers. "People used to criticise Rajiv Gandhi, as they criticise Rahul," she said.
Slamming the opposition parties for claiming that Rahul has not done much for Amethi, Priyanka said that she had a list of the work done by her brother in the region as an MP. She said that Rahul was responsible for bringing milk revolution in the region whereas earlier milk was brought to Amethi from outside.
Priyanka further said that Rahul Gandhi had brought educational revolution in the region, and had connected Amethi with other parts of the country through highways.
Seeking votes for her brother, Priyanka also made an emotional appeal recalling how she campaigned for her mother for the first time after the death of Rajiv Gandhi.
Addressing a meeting at Lala ka Bagh in the parliamentary constituency of Rahul, Priyanka said whatever Rajiv Gandhi did for the country was benefitting the people even after his death.
"When Rajivji used to talk about telecom revolution, computer then those having narrow vision used to make a mockery of him. When computer was introduced then a lot of criticism was done, but today the revolution is due to his policies. Similarly Rahul has a far sighted thinking and he is also being criticised," she said.
"Like Rajivji started Hindustan Aeronautics Limited, Indo Gilf Fertilisers, Indira Gandhi National Aviation Academy, similarly Rahul developed the academy as corporate terminal in Amethi. He …continued »