Ditched by Anna Hazare, Mamata Banerjee rallies — around herself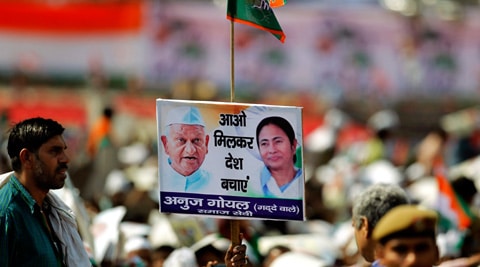 'Mismanagement' and faulty planning for the thin crowd — just about 2,000 people — reportedly is the real reason why Anna skipped the meeting. (AP)
It was supposed to be their first "joint" rally — an event that would catapult West Bengal Chief Minister and TMC chief Mamata Banerjee onto the national stage ahead of the Lok Sabha elections. But, days after saying he would support Mamata as the prime minister, social activist Anna Hazare failed to turn up for the rally at Ramlila Maidan on Wednesday.
While the official reason cited was his "ill-health", sources close to Hazare said he was peeved with the way the rally was publicised. "The rally was promoted in a big manner and given all the hues of a political event. There was talk about how Mamata had managed to get Hazare for the rally. There was also talk about how the rally had failed to get a good response in Delhi," said sources.
His aide, Datta Awari, however, said Hazare, who arrived in Delhi on Tuesday, was suffering from cough and fever. "He was feverish and suffering from exhaustion. When the TMC leaders came to escort him to the venue, Hazare expressed his inability to accompany them," said Awari.
Another aide, Sunita Godara, blamed "mismanagement" and faulty planning for the thin crowd — just about 2,000 people — reportedly the real reason why he skipped the meeting.
Mamata, who has 18 MPs in the current Lok Sabha, has set her sights on a national role for herself, although her party's real chances of a win are limited to the 42 seats in West Bengal. The rally with Hazare, supposed to be the first of many such joint rallies, was billed as a platform to give her a pan-India boost.
But by the time Mamata took the mike, the rally had clearly flopped. Her deputy, Mukul Roy, had failed to convince Hazare despite rushing to Maharashtra Sadan midway through the event. And the crowd, tiring of the Bollywood band, had started to leave for lunch.
Undeterred, Mamata spoke about how not just West Bengal, but Punjab, Bihar, Karnataka are all "my states and I could have started from any of these states". In an apparent attempt to project a national image, she even tried a smattering of Indian languages — "Sat Sri Akal, Khuda Hafeez, Vanakkam and Inshallah". She also took potshots at the "communal" leader of Gujarat.
Mamata stressed that it was a "social, not political", rally, and she had been invited by Hazare's team. "This is Anna's rally, we came here at …continued »