Internal battle in BJP out in open: M M Joshi seeks clarity on Varanasi seat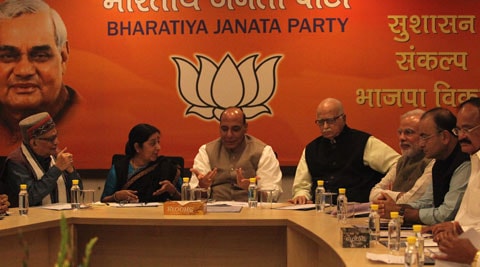 BJP leaders at a meeting in New Delhi on Saturday. (IE Photo: Tashi Tobgyal)
Just a month before the elections, internal wrangling within the BJP leadership over the selection of candidates for some seats and decision on alliances came to the fore at the party's central election committee meeting on Saturday. While senior leader Murli Manohar Joshi expressed his anxiety and sought clarity on reports that he may lose his Varanasi seat to the party's prime ministerial candidate Narendra Modi, Sushma Swaraj once again objected to a merger or alliance with the BSR Congress led by B Sriramulu.
Meanwhile, former Karnataka Chief Minister B S Yeddyurappa, who rejoined the BJP recently, was among the 52 candidates selected in the party's second list on Saturday. Yeddyurappa, who had to resign as Chief Minister in 2011 following corruption charges, will contest from Shimoga.
Sources present at the party meeting said Joshi asked party president Rajnath Singh to clear the air on reports that the Varanasi seat may be given to Modi, saying such talk was affecting his poll preparations.
While both Singh and Modi were learnt to have heard him out, they gave no indication of their thinking on this issue. Although some sources sought to suggest that Joshi's remarks were made in a lighter vein, the fact that the issue was raised is significant.
The party panel, however, paid heed to Swaraj's objections to a merger or alliance with the BSR Congress, even as Karnataka BJP leaders present at the meeting tried to reason that he has no "taint" and should be fielded. Sources said the party put off a decision on the Bellary seat, which Sriramulu is known to be eyeing, after Swaraj "vehemently" opposed the move, citing his association with mining baron Janardhana Reddy who is currently in jail in an illegal mining case.
"We have conveyed Karnataka BJP's wish that Sriramulu should be taken back into the party," said Karnataka BJP chief Prahlad Joshi.
Party sources said "an alternative arrangement is being worked out" to accommodate Swaraj's concerns, while getting Sriramulu to contest the elections too. These sources said that instead of a merger or alliance with the BSR Congress, the BJP may get Sriramulu to resign from the party, thus severing his ties with the party backed by the Reddy brothers, before being considered for a party ticket.
While the party announced candidates for 20 of the 28 Lok Sabha seats from Karnataka, sources said a decision on two other seats was put off due to a tussle …continued »