Direct Benefits Transfer scheme finds no place in Cong's campaign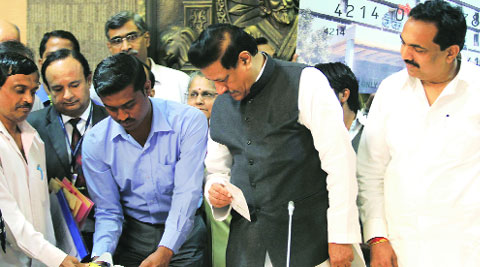 Chief Minister Prithviraj Chavan at the launch of the scheme in Maharashtra in 2013. (Ganesh Shirsekar/file)
After launching it with much fanfare and touting it as the next electoral game-changer, the Congress seems to have distanced itself from its ambitious Direct Benefits Transfer (DBT) scheme. There has also been a discernible dip in the UPA government's interest in the scheme, which has manifested itself in no review meetings having taken place at the top level for several months now.
The UPA government had launched the Aadhar-based DBT scheme, which aims at eliminating middlemen and ensuring money reaches the beneficiaries directly, in 43 districts across the country on January 1 last year, further expanding the rollout to a total of 121 districts by July 1.
However, the scheme was soon plagued by a range of implementation problems and administrative glitches, grounding it even before it could take off.
Instead of flaunting it as a key policy initiative of UPA II, the Congress has kept the mention of this scheme and its slogan "aapka paisa aapke haath" to the minimum during its campaign, choosing to harp on its other welfare-based schemes instead.
The nearly-50 page Congress manifesto made just a passing mention of DBT, simply saying it is "committed to using the 'aapka paisa aapka haath' platform for all government programmes… DBT will ensure time-bound delivery of benefits at the individual's doorsteps, and remove corruption and leakages."
Significantly, the scheme does not figure in the "report card" section that lists achievements. The manifesto also does not set any specific targets or timeline for it, although it sets targets and makes definite promises for most of the other schemes and proposals. The manifesto, however, does mention Aadhar a number of times.
"The problem is that even within the party there is limited support for the scheme. It was entirely driven by a few individuals and never percolated down to the ground-level politicians.
Within the party circuit, it has not been an agenda of discussion at all, especially as a campaign issue," said a Congress source.
According to sources, DBT barely figured in the party's manifesto consultation process or during discussions. Former UIDAI chairman Nandan Nilekani, the main person behind Aadhar, held one consultation for the manifesto but on energy.
Congress vice-president Rahul Gandhi, who had earlier taken keen interest in the scheme, also does not mention it during his campaign speeches, even as he emphasises other measures like MGNREGA, Right to Food and the Land Acquisition Act. Sources said there no longer seems to be anyone pushing the scheme in the party, or taking "political ownership".
Meanwhile, at the administrative level too, interest in the scheme seems to have taken a hit. Though Planning Commission officials say they hold monthly review meetings, top committees to coordinate and monitor its implementation have not held meetings for a while.
According to government officials, the "implementation glitches" and "over-ambitious targets" …continued »