Despite 'taint', Sreeramulu hopes to win by mining Modi name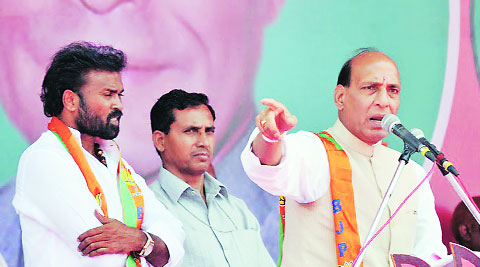 Sreeramulu (left) with BJP president Rajnath Singh. (IE)
Theree of his MLAs, including a nephew, are in prison awaiting trial for their alleged role in the illegal mining mafia that looted the mineral rich district of Bellary of over Rs 20,000 crore worth of iron ore between 2009 and 2011. His former strategist is in prison for masterminding the loot. The mining industry, the lifeblood of Bellary, hit its nadir after his sister became the Bellary MP.
Despite all the trouble caused by the Reddy brothers of Bellary in the last decade and the subsequent unravelling of their empire in the district, the political lynchpin of the group, B Sreeramulu, 43, whose re-entry into the BJP was opposed by his former benefactor, senior BJP leader Sushma Swaraj, remains a force to be reckoned with as he takes on former Orissa High Court chief justice N Y Hanumanthappa of the Congress in the Lok Sabha polls.
A combination of the Modi factor, mainly his pro-industry face, Sreeramulu's stature as the predominant leader of the Valmiki Nayak tribe who make up a quarter of the nearly 16 lakh electorate in Bellary, the coming together of various factions of the BJP, and a yawning distance between the Congress candidate and the electorate are all contributing to Sreeramulu's pre-eminence, despite lurking fears in various quarters of a return to the lawlessness of the past.
Once a Congress stronghold and famous for the 1999 battle between Sonia Gandhi and Sushma Swaraj, before descending into chaos over the last decade under Sreeramulu and G Janardhan Reddy, Bellary is in a unique and piquant situation in the run-up to the April 17 polls.
While there is a Modi factor in play, it is also befuddling voters, especially those allied with the mining industry and dependent on it for their livelihoods, since it means voting for Sreeramulu who was a part of the Reddy group that indulged in rampant illegal mining, though he himself was never directly charged in the looting.
Sreeramulu, who in 2009-10 along with the Reddy brothers had proposed investment of their mining funds in 350 Lok Sabha constituencies to help their "mother'' Sushma Swaraj become the prime minister in 2014, is now telling voters that he is fighting the elections to help Modi become the prime minister.
One of the Reddy brothers, Somashekhar, who is an active member of the Sreeramulu campaign, is telling voters that if Modi becomes the prime minister, his jailed brother and former BJP minister, G Janardhan Reddy, will be free by June and Sreeramulu will be in the BJP ministry.
"The only man who can bring progress is Modi. He should become the prime minister and voting for me will help achieve this,'' Sreeramulu said at a meeting in Bellary last week. Though he never mentioned Janardhan Reddy, he claimed that it was the BJP who helped improve Bellary in recent years and not the Congress.
With over one lakh …continued »