New Delhi |
Updated: April 6, 2014 10:09:22 pm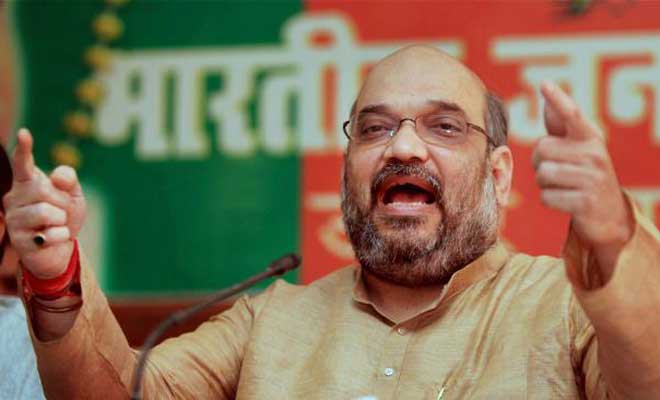 BJP on Sunday slammed Samajwadi Party, Congress and BSP over the registration of a criminal case against Amit Shah over his controversial "revenge" remark saying it was done as a calculated design to polarise election scenario in UP and is motivated by votebank politics.
Senior party leader Ravishankar Prasad also played a video clip of Barrack Obama and insisted that the use of the word "revenge" by Shah was not unusual as the US President too had used the word during an election campaign in Ohio.
"Even US President Obama has told Ohioans that voting is the best revenge," Prasad said.
Mounting a scathing attack on the SP government in Uttar Pradesh over the matter, he said, "The case has been registered by UP government for vote bank. It is not a bonafide FIR, but an FIR designed for vote bank politics."
He alleged that apart from SP, Congress and BSP also had a hand in registration of the case against Shah.
"This FIR is a calculated design to communalise and polarise the election scenario of Uttar Pradesh. BJP condemns this downright insult…It's not the SP alone, which has got this case registered against Shah. Congress and BSP are also behind it," Prasad said.
Replying to questions, he said BJP is, however, not worried about the possibility of Shah's arrest and will fight the legal battle.
Shah, Narendra Modi's key aide, was booked on Sunday by the Bijnore district administration for allegedly inciting the public through his controversial "revenge" remark.
"A case has been lodged under various sections of the IPC by the District Magistrate regarding some objectionable part in Shah's speech," said Chief Electoral Officer Umesh Sinha in Lucknow.
Prasad said Shah had merely asked people to express their pain and agony through ballot.
"What is new is this? What is wrong if in a democracy a voter takes revenge for his suffering through vote in a non-violent and peaceful manner," he argued.
He also alleged that the FIR has been registered by a state government, which released terrorists and withdrew cases against them, which was in turn quashed by the High Court.
"UP has the history of implication of innocent people in FIR and abusive criminal proceeding," he said, alleging that SP has again made similar promises in its manifesto.
Prasad said riots would not have spread in Muzaffarnagar had the police acted against the rioters in time. "200 riots took place during the SP regime," he said.
He also said that those very forces were behind the FIR against Shah, who are wary of the "wave" in favour of Modi in the country and especially in Uttar Pradesh.
"Now people of the state will take revenge for this insult. People of the state will reply to this attempt of polarisation. This is not FIR but a revenge…BJP condemns it," Prasad said.
At the same time, he said, BJP is not afraid of the legal battle, which is a separate aspect. "Yes, they can since an FIR has been lodged," he said, when asked about possibility of Shah's arrest.
On why BJP was blaming the UP government or political parties for the FIR against Shah as during elections it is done as per the directive of the Election Commission, Prasad disagreed and asked if everything was done at the direction of EC, why the administration did not act against Cobrapost sting on Babri Mosque demolition.
To questions about BJP polarising the polls, he said, "BJP is fighting election on the issue of governance, price rise and stinking corruption during UPA."
He dubbed as communal politics Sonia Gandhi's meeting with Shahi Imam of Delhi's Jama Masjid Syed Bukhari.
For all the latest India News, download Indian Express App