Contests within BJP: Clamour from veterans for big tickets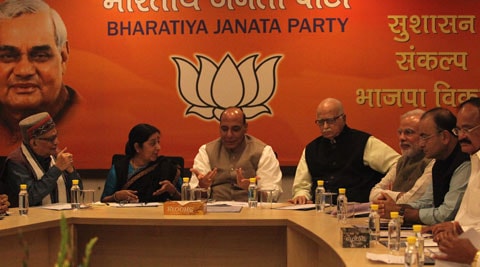 BJP President Rajnath Singh tried to steer clear of the issue. (IE Photo: Tashi Tobgyal)
One by one and in public, veterans of the BJP in politically crucial Uttar Pradesh have started to pitch themselves for specific Lok Sabha seats, much to the discomfort of a party trying to settle a seat for Narendra Modi.
When former party president Murli Manohar Joshi sought to play down his anxiety over speculations that Modi would contest from his constituency, Varanasi, saying he would follow whatever the party decides, it looked like a compromise on the cards. But former UP unit chief Kalraj Mishra threatened to upset that the very next day.
Mishra went public with a claim on Kanpur, the seat the state unit was considering for Joshi in case Modi does contest from Varanasi. Mishra is an MLA from an assembly constituency in Lucknow, but he has not claimed that prestigious seat.
"If the party asks me to contest, I will contest. If it asks me not to contest, I will not. It is for the central election committee of the party to decide," Mishra told The Indian Express over phone when asked about his remarks attributed to him about his desire to contest from Kanpur.
Party sources said Mishra did stake a claim to Kanpur in a meeting of top state leaders, called last week by general secretary-in-charge of UP Amit Shah.
Party leaders view Mishra's claim as an attempt to remind the party that he, too, needs to be accommodated alongside Joshi. They acknowledged that Mishra had twice been asked to stay out of Lok Sabha elections, in 2004 and 2009, and that he feels this could be his last opportunity when the tide is said to be so strong towards the party.
Amid the struggle to accommodate Modi, Joshi and Mishra, another party veteran, Lalji Tandon, the MP from Lucknow, muddied the waters further. Amid speculations of party chief Rajnath Singh contemplating contesting from Lucknow, Tandon went about staking his own claim by offering the seat he feels is his – to Modi. He was not ready to offer the seat to anyone else, he said, adding no one has communicated to him about Rajnath's candidature.
Former state BJP chief Keshrinath Tripathi, meanwhile, wants Allahabad. He is learnt to have indicated this during the meeting of former state unit chiefs called by Amit Shah. What could go against Tripathi is that has lost the last two assembly elections. "I have said that I am ready to contest. It is for the central election committee to decide," Tripathi told The Indian Express over phone when asked about his hopes for Allahabad.
Amit Shah called on another veteran, former chief minister Kalyan Singh, at his …continued »