Congress wants Amit Shah held, BJP says nation shares his views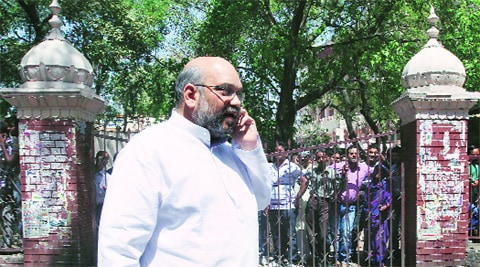 The Congress Saturday approached the poll panel seeking that Amit Shah be arrested. (PTI)
The Uttar Pradesh chief electoral officer has prepared a report on BJP general secretary Amit Shah's statements in Muzaffarnagar seeking "revenge" for "insults", and will be sending it to the Election Commission for action.
Condemning the remarks, as reported by The Indian Express, the Congress Saturday approached the poll panel seeking that Shah be arrested and banned from campaigning and that the BJP be derecognised. The remarks were made with a "calculated design to create communal hatred and tension", the Congress told the EC.
The BJP, however, defended Shah, with spokesperson Nirmala Sitharaman saying that the party saw nothing wrong in the comments, which "captured the mood of the nation". It was UPA chairperson Sonia Gandhi and the "so-called secular" Congress that first tried to polarise the elections with the appeal to Shahi Imam of Delhi's Jama Masjid, Sitharaman said.
At a meeting with Jat community leaders in Muzaffarnagar on Thursday, Shah said, "This election is about voting out the government that protects and gives compensation to those who killed Jats. It is about badla (revenge) and protecting izzat (honour)." On Friday, he repeated that while a man could live without food and water, "apmaan ka badla to lena hoga (an insult has to be avenged)".
BJP chief Rajnath Singh claimed that Shah had been quoted out of context, and that he was only talking of Congress misgovernance.
Party vice-president Mukhtar Abbas Naqvi said it was the UP government that had insulted the people there, and that Shah meant that this had to be avenged. "It is not a question of Hindus and Muslims. Those who went there for secular tourism, they have insulted the people. Instead of putting balm on the wounds of victims, they sprinkled salt. Revenge should be taken for this insult."
Party Uttar Pradesh spokesperson Manoj Mishra claimed that Shah meant that "those who were affected by loss of life and property in more than 150 riots" under the Akhilesh Yadav government "should take revenge by voting".
UP Chief Electoral Officer Umeh Sinha said that while he had prepared a report on Shah's meetings, he had neither received a complaint from any political party nor any directives from the EC in this regard.
"The BJP, Modi and Shah are trying to replicate the politics of hatred and communal divide, like was done in 2002 in Gujarat," Congress spokesman Randeep Surjewala told the media, adding Shah and BJP MLA Suresh Rana should be prevented from campaigning in any part of the country.
The party said Shah had committed an offence under Section 125 of the Representation of the People Act, 1951, and that it "calls for immediate registration of an FIR and his arrest along with other BJP workers".
Samajwadi Party general secretary Ramgopal Yadav also gave a complaint to the EC in New Delhi …continued »