Congress Vadodara candidate Madhusudan Mistry detained for vandalising Modi posters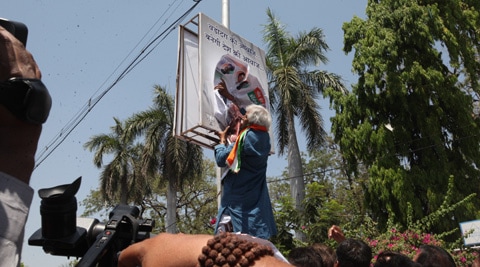 Madhusudan Mistry climbs up the pole to replace Narendra Modi's poster with Congress campaign material. (IE)
Vadodara police are in process of filing an FIR against Congress candidate Madhusudan Mistry and several Congress workers for unlawful assembly, violation of prohibitory orders and rioting.
Mistry and his party workers will face arrest once the offence is registered. Earlier on Thursday morning, Mistry was detained by the police along with several other Congress workers for damaging kiosks of the BJP Prime Ministerial candidate Narendra Modi. He is currently being held at the police head quarters in Pratapnagar while the Congress party workers have taken their protest march to the office of the collector and District Election Officer Vinod Rao, chanting anti-BJP government slogans.
Commissioner of Police Satish Sharma said, "Mistry and the Congress workers will be arrested once we have filed the FIR for several charges against them. They are under detention as of now."
Mistry and Congress workers were previously protesting against the Election Commission's refusal to allow them to put up Congress kiosks on the electric poles around the city where Modi's posters have been put up by the BJP since March 24.
While protesting, Mistry climbed up the electric pole outside the Congress office in the Dandiya Bazar area of Vadodara to replace Modi's poster with his own campaign material.
Chaos ensued outside the Congress office in Vadodara's Dandiya Bazar area when Mistry and hundreds of Congress workers took to the streets armed with sticks to damage Modi kiosks.
As Mistry climed up to pull out Modi's kiosk, VMC Opposition leader Chandrakant Shrivastav and other leaders shouted "Halla Bol" slogans and attacked electric poles outside the Congress office.
The Congress act comes a day after Mistry locked horns with Election officers to secure ad space on electric poles that have already been occupied by the BJP kiosks promoting Narendra Modi's candidature.
After correspondences with the local authorities yielded no results in their favour, the Congress party threatened to pull down Modi's kiosks if it was not granted space on the poles according to the "equitable distribution of space" policy of the Election Commission.
For over an hour, the police force was unable to control the situation as Congress workers went berserk, running across the street, attacking Modi posters.
Later on, several Congress workers, including the women protesters, were detained by the police. However, Mistry, who is a Rajya Sabha MP, refused to court arrest when requested by the police.
In a face off with police officers, Mistry accused the cops of being "BJP's men" and demanded to see the identity cards of the cops in civil attire.
"I am a Rajya Sabha MP and I have my I-card. Where is yours? Show me your I-cards and my arrest warrant or back off," Mistry screamed at the cops, as he clung to the electric pole, making an umpteenth attempt to climb up.
Dipankar Trivedi, DCP South then ordered his …continued »