Congress uses Gujarat govt report to slam Modi's "lie" on development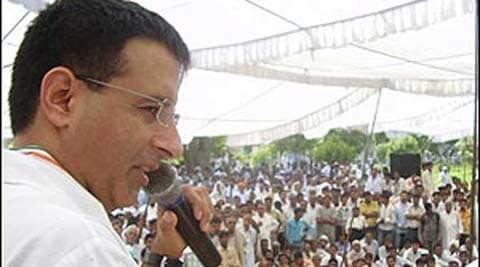 Congress leader Randeep Surjewala. (Express archives)
A Gujarat government report which concluded that people have not benefited from economic progress under Narendra Modi's rule was latched on to by Congress to puncture "the balloon of lie" being projected by the BJP's PM candidate and the "crony capitalists" around him.
Stepping up attack on Modi, Congress termed the Gujarat model of development as "sheer largescale hoodwinking" by the "ideal events manager" and cautioned the nation against falling prey to the propaganda.
"Led by a section of crony capitalists, Narendra Modi and Co have built a balloon of lie by marketing like an event manager," party spokesman Randeep Surjewala told reporters here.
He said the socio-economic review of 2012-13 of Gujarat exposes the "sheer falsehood" of the "propaganda machine" being unleashed in real and virtual world by Modi. Quoting the report, Congress said the dividends of rapid economic progress are yet to be translated into the improvement of the quality of the life of the people of the state.
Surjewala said the report "really establishes that the entire state of so-called economic progress in Gujarat has been directed and aimed at certain sections, certain crony capitalists favourable to the Chief Minister of Gujarat."
Since 2000-2001 upto 2012-13, that is in 12 years, the benefit of economic progress has not trickled down to the common man of Gujarat, he said citing the report. "Which progress is Narendra Modi speaking about," he questioned.
Quoting the report, Surjewala said foodgrain production in Gujarat recorded a decrease of around 8 lakh tonnes in the year 2011-12 compared to the previous year. "During the year 2011-12, the state produced an estimated 92.57 lakh tonnes of foodgrains compared to 100.71 lakh tonnes in the year 2010-11," the Congress spokesman said.
"The report also says how agriculture land meant for the common man, the farmer and the labourer of state of Gujarat is being siphoned off in a calculated fashion thereby leading to a decline in net area under cultivation in the state," he added.
The report says area under foodgrains decreased from 4905 thousand hectares to 4735 thousand hectares. He said the production of oilseeds also recorded a marginal decrease in Gujarat in the year 2011-12.
In the year 2010-11, total oilseeds production in the state was 51.42 lakh tonnes which marginally decreased to 50.35 lakh tones in the year 2011-12, Surjewala said. He said enrolment of children in secondary and higher education in the state also saw a net substantial decline.
"The report says enrolment in the schools decreased from 31 lakh to less than 30 lakh, depicting that every year a lakh and a half children in the state go out of the school system, despite increasing population, despite self-proclaimed claim of all round prosperity, despite claims of all round development," Surjewala said.
"If this is the Gujarat model that we are looking at or this is the 'Modifesto' that they released the other day, then the people of the country need to beware, …continued »