From health to home, Congress promises a new set of 'lawlipops' in election manifesto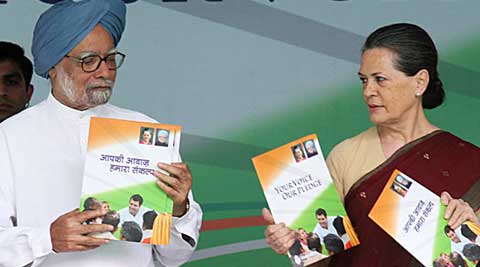 Prime Minister Manmohan Singh and Congress President Sonia Gandhi releasing poll manifesto on Wednesday. (IE)
Reaffirming faith in its welfare-based model of governance, the Congress party has promised a slew of rights in its manifesto for the Lok Sabha polls, making a pitch for inclusive growth while also committing to improve the ease of doing business.
The party claimed it had implemented 90 per cent of its 2009 manifesto and laid out a 100-day agenda for growth on its return to power. It also pledged to support the "goodwill nurtured for decades" among socialist countries on the foreign policy front.
PHOTOS: CONGRESS RELEASES ELECTION MANIFESTO
The manifesto – with the slogan "your voice, your pledge" — was released by Congress president Sonia Gandhi in the presence of vice president Rahul Gandhi and Prime Minister Manmohan Singh Wednesday at a tame ceremony marked by the absence of many of its ministers.
Laying emphasis on its tested formula of rights-based legislation, the party has promised six more rights – to health, pension, homestead, social security, dignity and humane working conditions, as well as entrepreneurship to "protect and assist all those who seek to become entrepreneurs".
CLICK HERE TO READ COMPLETE MANIFESTO
The party has said these rights would "supplement" the other rights brought in by its government, including the Right to Information, Education, Food and Employment.
Speaking at the event, Rahul — who had initiated a five-month process of consultation for drafting the manifesto – said the manifesto was "truly the voice of the people of this country" since the Congress had decided to draft it "not behind closed doors" but by taking it "to the people".
Claiming 90 per cent of the 2009 manifesto had been implemented by the UPA government, the Congress vice president said, "We believe for this country to grow, there has to be a strong partnership between business, economic sectors and the poor…This country cannot grow by neglecting either".
The manifesto proposes to increase health expenditure to 3 per cent of GDP to support the Right to Health and provide "universal and quality healthcare for all Indians (including free medicines)".
This promise comes at a time when a similar experiment, bogged down by implementation issues, by the previous Congress government in Rajasthan is seen to have failed to make any electoral impact.
To make the country more business-friendly, the manifesto says it is committed to improving the country's "Ease of Doing Business" ranking from 134 to 75 within five years.
To tackle the hot political issue of black money allegedly stashed away in foreign banks – an issue the BJP talks about dealing with through legislation if brought to power — the Congress manifesto has proposed appointing a "special envoy" to recover such money. The party's manifesto for the 2009 election was silent on the issue.
Another new entrant into the manifesto is a promise …continued »