Congress-RJD pact likely today; Kerala Guv resigns, may contest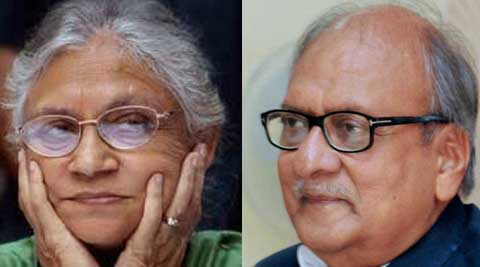 the government was moving quickly to After Nikhil Kumar resigned, government was moving quickly to appoint a new governor in Thiruvananthapuram, Sheila Dikshit was the frontrunner.
The RJD and Congress are likely to announce a seat-sharing agreement for Bihar on Wednesday. The Congress has agreed to leave the "contentious" Madhubani seat for the RJD, and Lalu Prasad has agreed to give 12 seats — one more than his earlier offer — to the Congress. The RJD will also leave a seat for the NCP.
Late on Tuesday evening, Kerala Governor Nikhil Kumar resigned, sending out an additional signal for the coming RJD-Congress alliance. Kumar — who has been pressing for the deal — was likely to contest the Aurangabad seat, a traditional Congress stronghold that has long been represented by his family.
Kumar, a former commissioner of Delhi Police, won the 2004 Lok Sabha election from Aurangabad. He faxed his resignation to Rashtrapati Bhawan from Kochi airport after landing there from Delhi on Tuesday evening.
The governor told reporters in Kochi that he was quitting his post, and that the Congress leadership would make an announcement on his contesting the Lok Sabha elections in a few days.
Late in the night, the government was moving quickly to appoint a new governor in Thiruvananthapuram. Former Delhi chief minister Sheila Dikshit was said to be the frontrunner, but Congress managers were trying to first gauge the views of President Pranab Mukherjee on the matter.
The appointment of a governor is essentially a political call, and making an announcement literally hours before elections are announced is likely to be strongly criticised. The President had forced the government to back off on its move to bring anti-corruption ordinances last week, and it was uncertain whether he would agree to go along with another decision by the outgoing government.
Should the government decide to take the plunge, papers would have to move very early in the morning in order to beat the Election Commission's press conference announcing elections, and thereby bringing the model code of conduct into effect.
Prime Minister Manmohan Singh returned from Myanmar late on Tuesday. The government also plans to press ahead with a cabinet meeting on Thursday, and will approach the EC to check what items it can take up.
In Bihar, the Congress scaled down its position after the JD(U) rejected its last-moment offer for an alliance, and Lalu began to campaign on his own. The RJD chief will be on a three-day tour of …continued »