Congress rewarded 'Adarsh' candidates by giving tickets: Narendra Modi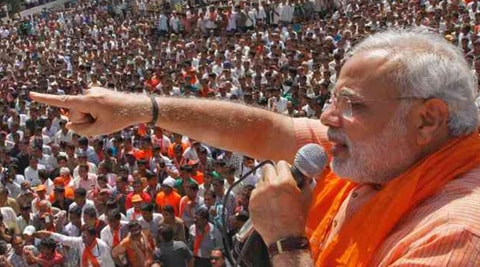 Corruption has become a way of life for the Congress, said Narendra Modi. (Reuters)
Narendra Modi on Saturday attacked Congress for its decision to give tickets to "tainted" leaders, saying "Adarsh candidates" including Ashok Chavan and Pawan Kumar Bansal have been "rewarded".
The BJP's prime ministerial candidate hit out at the UPA, saying the government at the Centre has become a "burden" for the country and corruption has become a way of life for the ruling outfit.
Keeping the Congress and Rahul Gandhi at the centre of his nearly 45-minute speech in Hindi, Modi asked people to vote out the Congress in coming Lok Sabha polls. Taking a veiled dig at the Congress for giving ticket to Chavan, he said "all the Adarsh candidates" including Bansal have been rewarded. Brushing aside controversies surrounding him over Adarsh housing scam, Congress recently decided to field ex-Maharashtra Chief Minister Ashok Chavan for Lok Sabha polls.
Attacking the Congress led UPA for "bad governance". "Bad governance is like diabetes which can make even a healthy human body hollow. Likewise, bad governance has the same impact on our country, making it hollow and blocking development," he said.
Addressing an election rally here this evening in favour of party candidate from Chandigarh, Kirron Kher, Modi asked the people to give BJP a chance for 60 months (next five years) as they had tried and tested the Congress for 60 years.
He launched a sharp attack on Congress nominee and former railway minister Pawan Kumar Bansal, who is seeking re-election for the fifth time and whose nephew was arrested last year in a cash-for-job scam.
Modi sought to know for what reason Bansal had been removed as railway minister and why he had been made candidate now. Taking a jibe Bansal, Modi said, "When hurricane comes, then nobody thinks of Pawan (air). This hurricane will turn into Tsunami in next 10 years."
"Corruption has become a way of life for the Congress," he said. Modi, who tried to strike an emotional chord with the locals by saying he was well versed with the place since he had served as party's in-charge for Haryana over 15 years back and stayed here.
"This is the first elections the country is experiencing that the government has become a burden for the country and government has become a crisis for the country which never happened." He also accused the Centre of not being concerned about the attack on armymen posted at the border while referring to the beheading of a solider last year by Pakistani troops.
"Today, the neighbouring country is beheading our army men who are posted at border. The government at Delhi is not concerned about it," he alleged. "How can a nation feel protected under such a rule where army jawan are not protected," he said.
Attacking Congress on the issue of 'One Rank One Pension', Modi said the party has "fooled" army personnel …continued »