Congress readies to walk alone in Andhra as TRS rules out merger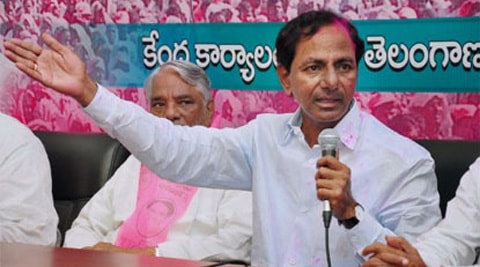 The TRS decision was learnt to have been made in response to the Congress's refusal to make the party's leader Rao chief minister of Telangana before the elections. (PTI)
Days after Ramvilas Paswan decided to climb on to Narendra Modi's bandwagon, the Congress suffered another jolt on Monday: the Telangana Rashtra Samithi (TRS) decided not to merge with it.
The TRS decision was learnt to have been made in response to the Congress's refusal to make the party's leader K Chandrasekhar Rao chief minister of Telangana before the elections.
"Last year I told the Congress that if Telangana is created by passing a Bill in September when Parliament was in session, TRS would merge with Congress. I gave that assurance. But that did not happen, and now we are under no obligation to merge," KCR said after a meeting of his party on Monday evening.
Despite having its back to the wall, the Congress appeared to put its faith in its vice-president Rahul Gandhi's firm belief in the philosophy of 'ekla chalo' — walk alone. The decision to go alone in Bihar in 2009 had backfired, but the party seemed prepared to play the same move one more time in that state.
Before Monday evening's decision by the TRS, the Congress was learnt to have told KCR to either merge with it or contest separately. 
"There is no question of an alliance with TRS. KCR had declared that he would merge the TRS with the Congress if Telangana was created. If he goes back on his words, we will fight against each other," a senior Congress leader had told The Indian Express.
KCR was said to have put conditions for the merger, including making him chief minister of the new state before the elections. The Congress had, in fact, explored the option of "delinking" Lok Sabha and state assembly elections in Andhra Pradesh, but the Election Commission had been unwilling, sources said.
The Congress has been disinclined to hand over Telangana to KCR before elections. Having all but sacrificed its 25 Lok Sabha seats in the residuary state, the party was not willing to play second fiddle in Telangana as well.
KCR, on the other hand, has been wary of allowing his destiny to hang in the balance until after the elections, the sources said. Even as the party went into Monday's meeting, most of its leaders were against a merger with the Congress.
In Bihar, Chief Minister Nitish Kumar's response to renewed Congress overtures has been lukewarm, and JD (U) chief Sharad Yadav on Monday ruled out any alliance outside the 11-party non-Congress, non-BJP front.
The Congress considers RJD chief Lalu's offer of a seat-sharing deal "humiliating" — not so much for the number of seats as for their "quality". Most of the 11 seats that …continued »