Congress plays Adani card to counter BJP on Vadra land deals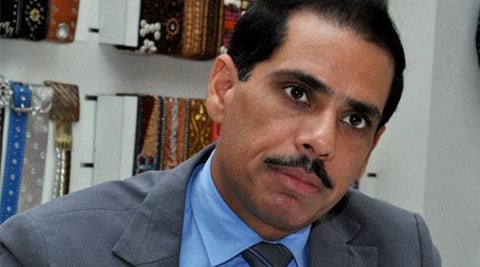 Robert Vadra. (PTI)
Playing the Adani card, Congress on Wednesday sought to put Narendra Modi in the dock for giving vast tracts of land to his "favourite capitalist friend" at throw away prices by treating the state as his "private feudal estate" days after BJP raked up Robert Vadra's land deals.
It also alleged a scam of Rs 23,000 crore in power purchase agreements in Gujarat. Besides, it claimed that BJP's poll expenditure is double at Rs 10,000 crore than that of US President Barack Obama.
Seeking to puncture the "good governance balloon" of Gujarat, AICC spokesperson Abhishek Singhvi posed questions to the BJP's prime ministerial candidate accusing him of practising "crony capitalism" and "squandering of state largesse".
He also faulted the state-owned Gujarat Urja Vikas Nigam of entering into power purchase agreements at different rates with three companies.
He said while Gujarat government would be purchasing power from two Adani plants at Rs 2.89 and Rs 2.35 per unit, it is being bought at Rs 2.26 from a third thermal unit.
This constituted a massive fraud as per unit 63 paise are being given more, which will lead to the thermal power producer gaining Rs 23,625 crore more over a 25 year period.
Singhvi sought to know from the Gujarat Chief Minister whether he has taken action against his cabinet colleague Anandi Ben Patel who has been pulled up by the Supreme Court for giving 36 acre land to a company.
"The questions I have asked why after Supreme Court strictures, are you continuing with her and indeed have promoted her to a de-facto Chief Minister when you are giving lecturers that you will take action against everybody. Please look into your backyard first," he said.
Singhvi also asked as to why Gujart government kept the issue of land allotment to Alumina refinery in Bhuj outside the purview of MB Shah Commission of enquiry into land allotments.
The party made a stout defence of Vadra alleging that BJP was targeting him in the midst of elections through baseless allegation.
"People cannot be fooled by throwing things in the air. For last four months Vasundhara Raje is Chief Minister," he said noting that she would have taken action if there would have been any wrong doing in land deals of Vadra in Rajasthan.
Reiterating the charge that BJP is spending Rs 10,000 crore on its election campaign of which Rs 5,000 crore is supposed to be for only ad campaigns, Singhvi said, "This is more than President Barack Obama spent on his entire presidential campaign, which was Rs 5,000 crore.
"Obama had to declare every penny of it. Why do you not give an account statement of what you have spent in ads alone?" he asked.
About the difference in the rate in power purchase agreements, Singhvi said that 63 paise per unit more in each of the two companies paid comes to about Rs 1,347 crore loss for two years and for a 25 year contract to Rs 23,625 …continued »