Congress hits back at BJP's Vadra CD with photos of Modi and 'hawala operator'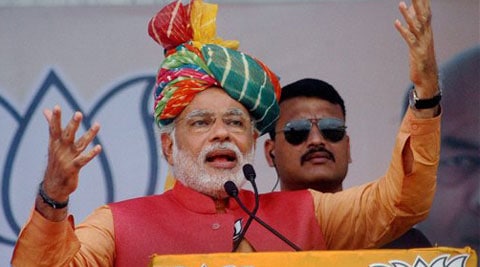 BJP's PM candidate Narendra Modi addresses an election campaign rally in Anand on Monday. (PTI Photo)
A day after the BJP released a booklet and a video targeting Congress president Sonia Gandhi's son-in-law Robert Vadra, the Congress on Monday released photographs of Narendra Modi with a Surat-based diamond businessman, Afroz Fatta, who is alleged to be linked to a hawala racket.
Stating that Fatta was suspected to be involved in "a major hawala racket with deep underworld links", the Congress raised questions about Modi's "friendship with protection" and "overt relationship" with him.
Last month, the Enforcement Directorate had claimed to have unearthed a Rs 700-crore hawala racket in Surat. A day later, on March 22, it had raided Fatta's house and office in Ahmedabad and Surat.
The Congress claimed Fatta is a "well-known BJP supporter and a protege of Narendra Modi". "Modi's overt relationship… friendship with protection of one of the biggest hawala rackets unearthed a few days back is writ large, raising serious questions that both the BJP and Modi need to answer," said party spokesperson Randeep Singh Surjewala, daring Modi to submit himself to an independent probe by an agency outside Gujarat.
The photographs released by the Congress include one which shows Fatta receiving a Vivekananda memento from Modi at a public function. Other photographs show Fatta standing beside Modi at a function, next to Gujarat Minister Anandiben Patel at a public function, and sitting with BJP spokesperson Shahnawaz Hussain in a room. Two other photographs show Fatta among a delegation of Muslim leaders which met Modi at his office.
"Fatta has often been seen at various social and political functions with Modi and holding meetings in the office of the Chief Minister," said Surjewala. The Congress gave a detailed account of Fatta's activities, but did not provide any proof of his link with Modi, apart from these photographs.
"It is suspected that underworld money was also being sent out and re-invested through this hawala route," said Surjewala. He claimed to have information that "four shooters of underworld don Babloo Srivastava" had shot at one Amzad Jalal mistaking him for Fatta. He said Jalal's brother is a business partner of Fatta. He said Fatta had also filed a compliant with the Surat police that he had received threat calls from a phone number in Estonia.
"All this clearly reflects a major hawala racket with deep underworld links… What is the nature of the relationship between Modi and Fatta? Whose money, running into nearly Rs 1,000 crore or more, was being allegedly transmitted through the hawala racket by Fatta and others, and in what shape and for what purpose was this money being brought back to India and put to what use?" said Surjewala.
He also asked "whether complete complacency of Modi and his government to one of the biggest hawala rackets being run in Surat under their nose points towards …continued »