Congress accuses Modi of using religion for campaigning, moves EC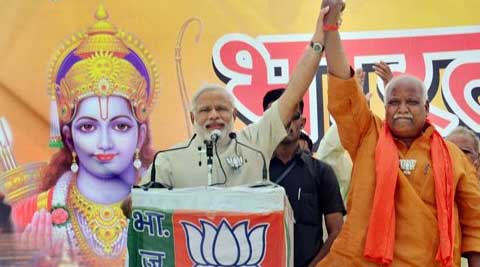 Narendra Modi addressed a rally in Faizabad with the portrait of Lord Ram providing the backdrop. (PTI Photo)
Accusing Narendra Modi of using religion for canvassing by putting out Lord Ram's portrait in the backdrop at his Faizabad rally, Congress on Monday approached Election Commission demanding registration of an FIR against him and other party leaders as well as derecognition of BJP.
PHOTOS: EC SEEKS REPORT ON MODI'S RALLY IN FAIZABAD
"We have complained to the Election Commission on what symbols were used in Faizabad, while Modi was giving his speech, the Ram Mandir and Lord Ram. This is a clear violation of the model code of conduct and we have asked the Election Commission to intervene immediately and take some strict action against Modi," senior Congress leader and Union Minister Kapil Sibal told reporters after meeting EC.
Sibal also brought the statement of Modi on Bangladeshi immigrants to the notice of the Election Commission authorities, saying it is not expected of a leader.
"He (Modi) said those who worship Goddess Durga can remain, but the rest must pack up to Bangladesh. I think it is equally actionable what he has said. Again it is not expected of a leader," he added.
Sibal also sought Election Commission's intervention into distribution of scurrilous pamphlets against Congress leaders Sonia Gandhi and Rahul Gandhi at Amethi. In the communication to the EC, the AICC said the language along with the photographs including of Baba Ramdev and Sadhvi Prgya in such books unequivocally establishes that these have been printed, distributed and circulated during election period to spread religious and communal hatred for seeking votes.
The party also raised the issue of Modi's statements on Bangladeshi immigrants.
In a separate communication, Congress also protested against the distribution of "objectionable" and "malicious" booklets in Rahul Gandhi's Parliamentary constituency Amethi by BJP and Aam Aadmi Party as well as gathering of volunteers from RSS, VHP and Bajrang Dal to "destabilise" the polls and asked the EC to put preventive measures in place.
Hours after Modi addressed a rally in Faizabad with the portrait of Lord Ram providing the backdrop and asked people living in the birthplace of the Hindu deity to teach Congress for not fulfilling electoral promises, the AICC knocked the EC's doors alleging that it was clear violation of the law and also the Model Code of Conduct.
"BJP and Modi have used the portrait of Lord Ram, which is strategically placed behind the podium from where the speech is being delivered by him. The headgear of Lord Ram fits on the head of Modi as can be seen in the video, when he is delivering the speech which deceives the gullible voter," the Secretary of AICC …continued »