Chidambaram questions Narendra Modi's campaign fund; calls him an 'Encounter Chief Minister'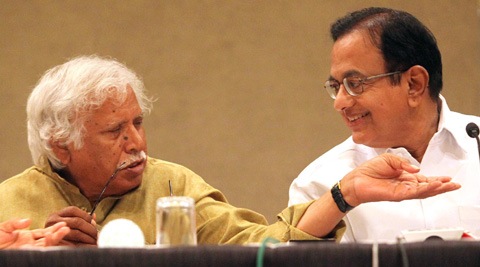 Finance Minister P Chidambaram lashed out at Modi for being a compulsive liar in Vadodara on Sunday. (Express Photo By Bhupendra Rana)
Finance Minister P Chidambaram, who arrived in Vadodara to campaign for Congress candidate Madhusudan Mistry on Sunday morning, said Narendra Modi's "boastful exaggeration" of the Gujarat development model was neither truthful nor relevant and acceptable.
Lashing out at Modi, Chidambaram said the BJP Prime Ministerial candidate is a "compulsive liar" having a "character flaw and infectious disease to use derogatory language".
Interacting with reporters in Vadodara on Sunday, Chidambaram raised questions on who is funding BJP's extravagant election campaign.
He said, "I heard that one massive rally addressed by Modi in Chennai cost about Rs 20 crore. The BJP claims Modi is holding 400 rallies across the country. Assuming that 200 of those are of the variety like the Patna and Chennai rally and assuming that even Rs 5 or Rs 10 crore are being spent on each, they must explain how they are getting Rs 2000 crore for their election campaign.
"I do not know if the money used for this campaign is black or white but it might certainly be someone else's money."
Taking on Modi in his home turf, Chidambaram said that Modi has centred his propaganda of the development in Gujarat on "exaggeration".
Chidambaram said, "There is a difference between puffery and distortion of truth. All claims of growth are welcome but one should not make exaggerated distortions of truth like the BJP does."
Chidambaram quoted a report by "friend of Gujarat" Mahesh Vyas, Managing Director and CEO, Centre for Monitoring Indian Economy, which states that only four others among the 28 states and Union Territories in India are worse than Gujarat in terms of darkness in households.
In his comparison of Modi's Gujarat model and the nation's growth, Chidambaram said that Gujarat is not the best just like it is not among the worst performing states in the country.
Chidambaram said, "There are certain parameters on which Gujarat has done well and there are many parameters on which other states are far ahead of Gujarat. Someone boasting about the Gujarat model alone is mocking at other states. Just like Gujarat has its 'Asmita' and pride, so do other states and so it is wrong to say that the Gujarat model is the only model that can and should be implemented across the country.
"Gujarat is in the middle of the ranking of the states and it needs inclusive growth model to do better than just the tall claims of a political party."
Chidambaram laid out the economic map for the country in 2014-15 and said India had all possible means to achieve an 8% growth rate in the coming financial year, regardless of which government comes into power at the end of the general elections.
Denting holes in Modi's aggressive campaign, Chidambaram …continued »