Checking parties' expenses on polls a priority for EC, says CEC Sampath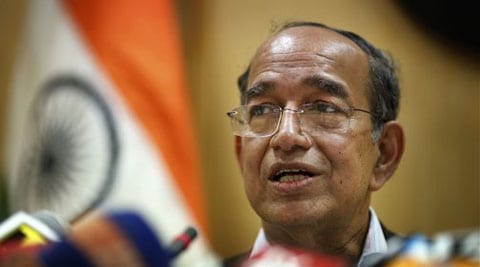 "If we give interviews to TV channels from morning to evening, who will monitor the elections?" said CEC Sampath.
On the eve of the poll verdict, Chief Election Commissioner V S Sampath discusses some of the issues that came up during the 2014 elections, in an interview to Shyamlal Yadav and Ritu Sarin. Excerpts:
The CPI(M) has said the Election Commission (EC) became a "mute spectator" to rigging in West Bengal. They have demanded a repoll in around 3,000 booths.
Allegations of rigging and electoral malpractices keep coming up in elections. I would only like to say that they are not as widespread and endemic today as they were some three-four general elections ago. We have a mechanism in place to take care of it. This time, particularly in West Bengal, we received a large number of complaints. When there are a large number of complaints, we have to be very careful.
There have been allegations of rigging from Uttar Pradesh and Bihar also. And 3,000 booths in West Bengal is a large number.
These are just complaints. Do not think that repolls will be ordered in all the 3,000 booths. Even the person who made the complaints knows that. To complain is their right; to inquire and take appropriate action is our duty. You cannot indiscriminately order repolls simply because there are complaints. We will be inviting extra scrutiny… This is very delicate area and we have to be very careful. Some kind of golden mean has to be found. What is important is to take proactive and pre-emptive action. For instance, on the complaint of one political party, we did recast our strategy of deployment of CRPF and asked returning officers to ask the candidates about their areas of concern. That was done in the last three phases of elections in Uttar Pradesh, West Bengal etc. So once we get corroborative evidence, whatever best can be done will be done.
The EC took over a month to decide on a repoll in Mewat area. How much time will it take to decide on 3,000 booths in West Bengal?
Tomorrow is the last day. After that, what? So, wherever action could be taken, wherever there is need to take action, we will take action. It is never too late until the date of counting.
During the last few phases, it appeared to be a fight between the BJP and EC, rather than the BJP and Congress. The BJP was aggressively targeting the EC and you did not react on time.
There is a difference between a political party or a candidate and us. They have 24X7 time to make such statements and speeches, but it is not possible for us. The conduct of the elections and management of elections is our primary job. If we give interviews to TV channels from morning to evening, who will monitor the elections? There is a difference between what somebody can do and what the EC can do. It will …continued »