Campaign material traders make hay while India gears up for polls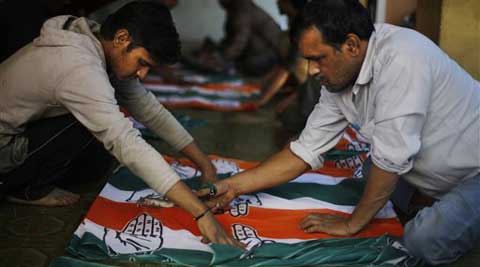 Indian workers prepare ruling Congress party election campaign materials at a workshop in New Delhi, India, Saturday, March 15, 2014.
It's election time, but at Biren Natto's store in the Bowbazar area, arch-rivals Trinamool Congress and CPI(M) or BJP and Congress bury their hatchets and co-exist.
Natto is among the few traders who deal with campaign material and representatives of all political parties are queuing up at their stores to stock up as campaign picks up for the coming Lok Sabha elections.
Campaign material like vinyl box posters, flex, paper posters, cut-outs, banners, flags, handbills, kites, caps and umbrellas printed with party symbols are the top draws among the parties and traders are finding it difficult to cope with the bulk orders, which they say, are still pouring in.
"For us all political parties are same. We as individuals may have our political beliefs, but when it comes to business, all are same for us. We charge the same for our products from every party or candidate who place orders," said Natto.
Natto, who has been in this business for the last 15 years, has put up more printing machines in his press to deal with the growing pressure of orders. "Orders will increase after Holi. Campaign has been a bit low till now, but will pick up soon with the first phase of nominations," he said.
Natto has already received orders from Darjeeling and Jalpaiguri districts, which will go to the polls on April 17, the first phase in West Bengal. Bikash Majhi, another trader at College Street who also deals with orders from other states, says it is customary for bigger parties of any particular state or region to place the biggest order.
"Orders have started coming in since the last week of February. Once Holi is over, we expect to receive more orders from the districts," he said. "It is our family business for the past 25 years. Every time during elections whether its the Assembly, civic or Lok Sabha polls, we get orders from various political parties for flags, paper stickers and other campaign material," said Naren Saha, another trader.
Though Saha didn't elaborate on his profit margin, he said prices of flags have gone up with the rise in prices of raw material. "During the last Assembly elections, we sold flags for about Rs 10. Now it is nearly Rs 20," he said. But, Saha points out at the shortage of manpower during Lok Sabha polls to cope with the rush of orders.
"Most of the manpower comes from Bihar and Jharkhand. During Assembly or other elections, we don't face shortage. But, during the Lok Sabha elections, this is a perennial problem as artists get engaged in their hometowns with their own states also going to the polls," he said.
The age-old traders of campaign materials are also facing competition from new technology in their business.
"Earlier it was all handmade stuff and use of printing machines, so the cost was more. But with new technology, many small shops have sprung up who use DTP and other methods to print more material at cheaper rates, …continued »