Cabinet's size, shape, form, it all matters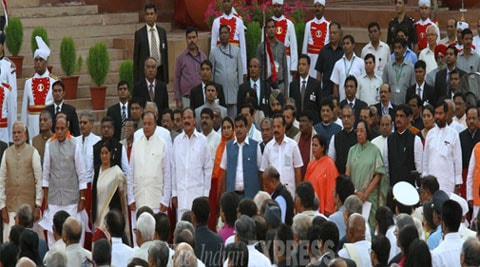 Narendra Modi poses with his 45-member Council of Ministers. (Source: Express Photo by Neeraj Priyadarshi)
Including former prime minister Manmohan Singh, UPA-II at 32 had the largest Cabinet so far at the Centre. In contrast, 30 years ago, when Rajiv Gandhi had got the largest mandate for any political party in India, his Cabinet size was much smaller.
In the past 25 years, whether because of coalition compulsions or the need to appear representative of India's diversity, Cabinets have been swelling.
Now Cabinet size, shape and form send a variety of signals about the government and policys. For example, in 2013, after the Cabinet reshuffle, policy watchers found that Seemandhra had more than due representation, signalling effectively that the UPA had made up its mind to create Telangana.
For independent India's first Cabinet, Jawaharlal Nehru had gone about looking for eminence and seeking to represent all possible streams in Indian political thought. So Rajkumari Amrit Kaur became the first woman Cabinet minister of India, with Health, while B R Ambedkar and Syama Prasad Mookerji, outsiders and critics of the Congress, were given pride of place.
In the Cabinet after the first general election (1951) too, Nehru tried to accommodate eminent personalities and those seen as tough rivals.
In 1991, PM P V Narasimha Rao sent a message regarding his own government by picking technocrat Manmohan Singh for the finance minister's post.
In 1977, despite having a clear majority of 295 seats, the Janata Party felt it necessary to designate deputy PMs in the first non-Congress government, as well as 17 cabinet ministers.
In 1996, when a 13-party coalition of varied regional parties called the United Front was sworn in, with the TDP as the convenor, there was a strong regional flavour to the Cabinet. The DMK and TDP both, through ministries, started to matter nationally.
When the BJP-led NDA came into power in 1999 for a full term under Atal Bihari Vajpayee, 25 ministers were sworn in.
Says Prof S S Jodhka of School of Social Sciences, JNU, "The Cabinet must reflect India's national character — its regions, classes, castes, communities and ethnicities. For any long-term idea of a stable national government, it must reflect all aspects of India. In fact, in today's times, even the West is looking towards India to understand how we manage and deal with diversities."
Political scientist Prof Balveer Arora agrees: "Political representation has been taken care of. What is needed now is to take care of sociological representation. Cabinet should ideally mirror society."
Political scientist and author Prof Zoya Hasan feels this is even more needed given that "the campaign has been so centred around a single individual". 'It is all the more necessary that the Cabinet must go some distance to restore the system of checks and balances. While the Executive must be strong, it must not be that the Executive is just about one leader. We have a …continued »