By the Ganga, Modi talks of 'spiritual stream' in himself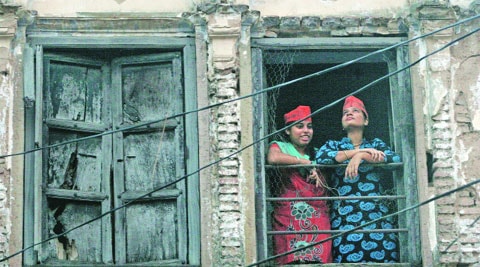 People wait to get a glimpse of Narendra Modi in Banaras on Saturday. ( Source: Express photo by Anand Singh )
IF his candidature from the holy city of Varanasi underlined a symbol, the first visit of PM-in-waiting Narendra Modi to his constituency after the results reaffirmed the sentiment. He offered prayers at Kashi Vishwanath Temple, participated in Ganga Aarti and addressed a crowd full of sadhus and priests at Dasashwamedh Ghat, arguably the most sacred Hindu site where, mythology says, Lord Brahma performed 10 Ashwamedh Yagya, the supreme task of a king.
If party president Rajnath Singh urged Modi to "make India not just an economic power but also a spiritual power", Modi said that it was only when India was at its spiritual peak, that the country became an economic power and was called "Sone Ki Chidiya".
Amid sparkling lights Saturday night, he spoke from a stage specially built on the Ganga ghat, Singh and Amit Shah seated next, and a huge crowd gathered atop temples and terraces. "Maa Ganga and Bharat Maa," were the two most frequent phrases he used.
Modi claimed that divine powers often directed him to perform certain tasks. He narrated an incident related to the freedom fighter Shyamji Krishna Varma. Modi claimed that "Varma was a pioneer of armed revolution," and close with Veer Savarkar and Swami Vivekananda.
Varma died abroad in 1930 with a last wish that "his ashes be brought to Bharat Maa in Independent India", Modi said, adding that foreigners carefully held his ashes in Geneva, and after Independence the first task of Jawahar Lal Nehru should have been to bring back the ashes. But unfortunately no government since then fulfilled the wish.
"When I was the chief minister in 2001, as Maa Ganga has called me here, those ashes called me. I went to Geneva and brought back those ashes on my shoulders after 73 years and fulfilled the last wish of that great man," Modi said.
He said when India was the spiritual centre of the world, Varanasi was the "Rashtra Guru". "Unless Banaras becomes Rasthra Guru, how can India become Jagat Guru," he said.
He noted that after five years falls the 150th birth anniversary of Mahatma Gandhi, who always stressed on cleanliness. "The first condition of making Kashi a spiritual capital is to clean it," he said.
Urging people to clean the city, he asked them never to spoil Ganga and the streets of Kashi.
Modi also narrated an incident related to astronaut Neil Armstrong. When Armstrong went to space he was a mere astronaut, but when he returned he was a component, a minor human being belonging to the entire universe. "When I came Varansi I was just a candidate, but as I stepped on the land that had become sacred by the stream of Maa Ganga, I became …continued »