BSY keeps a low profile, his supporters not sure about BJP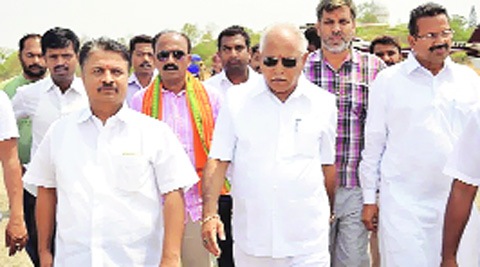 Ex-CM campaigns little, as BJP banks on Modi factor alone. Express
One of the key side plots of the Lok Sabha polls in Karnataka is whether the return of B S Yeddyurappa to the BJP after an year long estrangement will see the single largest community in the state, the Lingayats, return to form the bulwark of the BJP vote base in the state.
However, with the BJP banking on the Modi factor to win seats in Karnataka, Yeddyurappa has been relegated to a low profile. Morever, the Lingayats, who make up 17 per cent of the population, don't appear to be rallying behind the BJP as it may have wished.
The consolidation of the Lingayat votes was the main reason the BJP and Narendra Modi in particular had little hesitation taking Yeddyurappa back in January 2014.
Yeddyurappa has been conspicuous by his absence in the BJP campaign in the Lingayat-dominated regions, barring the odd foray into Gadag, Mudhol, Bellary and Bangalore to support party candidates there, apart from campaigning in his own Shimoga constituency.
"The state leadership of the BJP has been reluctant to use the services of Yeddyurappa and is relying entirely on the Modi factor to deliver votes. There is a belief that the mere return of Yeddyurappa to the BJP and the projection of Modi as the prime minister will result in the Lingayat votes consolidating once again in favour of the BJP,'' a close aide of Yeddyurappa says.
On the ground the situation is not as simple as "one plus one equals two". In the Bailhongal region in the Belgaum parliament seat for instance, where Lingayats make up nearly 40 per cent of the population, there is confusion among Yeddyurappa's supporters about backing the BJP. Bailhongal was one of the six Assembly seats won by the Karnataka Janata Party (KJP), the party floated by Yeddyurappa, in the 2013 Assembly elections.
`Although it might seem that the unification of the BJP and KJP will result in a boost for the BJP in this region, this is not quite true. Yeddyurappa rejoined the BJP without taking his workers along. Many workers who stood with him are now turning up at the door steps of other parties," says Mallikarjun, a worker of the KJP in Bailhongal.
"Many workers who fought tooth and nail to ensure success for the KJP are now disgruntled because they have to take a backseat to the BJP workers they fought against last year. This is seeing many workers joining the Congress campaign. It is easier to split a party than to put it together again," says the Bailhongal president of the Congress, Basavaraj Koujalgi.
In places like Aland in Bidar constituency in the Hyderabad-Karnataka region, the MLA elected on a KJP ticket last year, B R Patil, has chosen to support Congress candidate Dharam Singh.
According to sources in the BJP, Yeddyurappa has gone to campaign in places where there are …continued »