BSP to go alone in Lok Sabha polls: Mayawati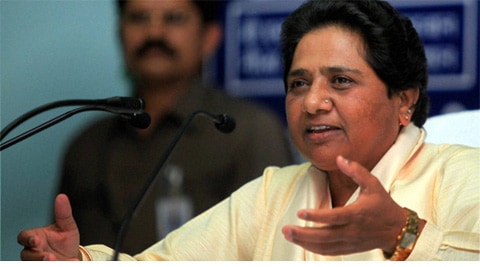 Mayawati said that she has already gone with the saffron party in the state and would not do it again as there had been no change in its ideology.
the two as "they could spoil the atmosphere of the country".
Replying to a question, Mayawati ruled out having any talks with Trinamool Congress' Mamata Banerjee or AIADMK's Jayalalithaa saying that since her party is contesting on its own there was no question of any discussion.
Advising her cadres to desist from "Manuvadi" media campaign, she took strong exception to reports in a section that she would be entering into the contest from Lalganj (reserved) seat adjacent to Azamgarh from where Mulayam Singh is in the fray.
"I am not aware that I am going to contest from Lalganjseat (in Azamgarh) and party leaders Satish Chandra Mishra or Naseemuddin Siddiqui from Varansi and Azamgarh seats respectively, I contradict such news items published in a section of media", she said.
On the occasion, she released the list of names of candidates for all 80 seats in UP which she said have been decided keeping in mind the representation of all sections of society and their support to the party.
"On 17 reserved seats, different castes of SCs have been fielded, 15 backwards, 19 Muslims while 29 upper castes including 21 Brahmins and eight Kshatriya have been given tickets," Mayawati said, adding that seven women have also been fielded.
She said her party would also field candidates in other states where the movement and the organisation has come into being and their lists would be announced soon.
Mayawati would begin her campaign all over the country from March 22 and devote 90 per cent of her time in UP where she would address the first meeting in Bijnore on April 3. The BSP, which does not issue poll manifestos like other parties, instead issued 24 page booklet in the form of Mayawati's appeal.