Brand Modi finds more than one claimant in Puducherry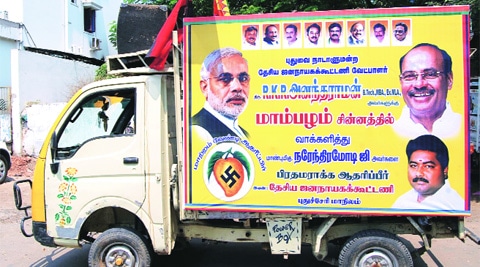 PMK's campaign vehicle. EXPRESS
At the lone Lok Sabha constituency in Puducherry, the last remaining bastion of the Congress in south India, there is more than one frontline claimant for brand Modi, and the NDA is split between them. Facing the incumbent, Union Minister V Narayanasamy of the Congress, is former speaker R Radhakrishan of the ruling AINRC and ally BJP, and former MLA R K R Anantharaman of the PMK backed by DMDK and MDMK — both candidates seeking votes in the name of NDA's prime ministerial candidate.
The present confusion in the NDA ranks is the result of the teething trouble the alliance had faced in Tamil Nadu during its formation, when the BJP managed to persuade competing political parties to come together on a single platform against the AIADMK and the DMK.
As the tripartite talks between DMDK and PMK dragged on, the BJP stitched together a partnership with the All India NR Congress, a Congress splinter launched by N Rangasamy. Being the dominant partner there, the party was allotted the seat where it has fielded Radhakrishnan.
But the PMK has won the seat twice in alliance with other major partners, and the constituency has a sizeable Vanniyar population, which the party considers its captive vote. It threw its hat in the ring and fielded Anantharaman months ago, forcing the BJP to de-link Puducherry when a deal was eventually clinched in Tamil Nadu.
Technically, both are NDA constituents. This has put the BJP in a tricky situation where it has to protest the usurping of the brand in the UT, but not so vehemently that it would affect its electoral prospects in Tamil Nadu. The territorial unit of the BJP has asked the PMK to stop using BJP flag and Narendra Modi's image from its campaign material, but with little effect.
"Our national president has said that the alliance is with AINRC in Puducherry. I have written to the PMK to stop using the BJP flag and Modi's image but despite being asked repeatedly, they have not responded yet," said BJP president S Visweswaran. A complaint has also been lodged with the TN unit of the party, he added.
Radhakrishnan, the 'official' NDA candidate, is not amused by the turn of events. "The public is disillusioned by the Congress-led UPA rule at the Centre, and is looking at an alternative. When NDA and Modi are looked upon as that alternative, there should be clarity as to who is the official candidate here," he said.
Anantharaman, who had started ground-level work about four months ago, was not available for comment despite repeated attempts.
The MDMK, an NDA constituent in Tamil Nadu, declared support for Anantharaman, expecting quid pro quo from PMK in the constituencies where the party is contesting in Tamil Nadu. Similarly, after forbidding use of his image or party materials for campaign, DMDK leader Vijayakant had a change of heart, announcing his support for the PMK.
PMK president G …continued »