BJP's mission UP: Modi heads to Varanasi, Joshi gets Kanpur and Rajnath goes to Lucknow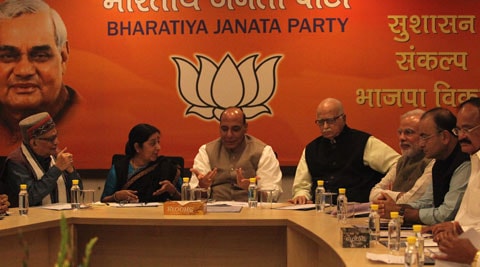 BJP's announcement on Modi's seat is seen as move that will boost the party's chances in the critical state of Uttar Pradesh and neighbouring Bihar. (Express Photo)
Ending weeks of suspense and feverish speculation, the BJP on Saturday announced that its prime ministerial candidate Narendra Modi would contest the Lok Sabha elections from the temple city of Varanasi, a move it hopes will boost the party's chances in the critical state of Uttar Pradesh and neighbouring Bihar.
It was also announced that party president Rajnath Singh will contest from the prestigious Lucknow seat, held by former Prime Minister Atal Bihari Vajpayee until 2009.
"Grateful to the Party for giving me opportunity to contest the election from the holy city of Varanasi! An honour to contest from Varanasi," Modi tweeted in reaction to the announcement.
"With blessings of Ganga Mata & Kashi Vishwanath, let us work towards success of Mission272+ & create a strong, vibrant & prosperous India," he added.
The BJP, however, indicated that Modi may also contest from one seat in Gujarat.
"There is every possibility. That will be decided on March 19," BJP leader Ananth Kumar replied when asked if Modi would contest from Gujarat as well. The party's central election committee is due to meet on March 19 to consider candidates from Gujarat and Rajasthan, among others.
The announcement of Modi's name for Varanasi came after weeks of tussle over the choice as veteran leader Murli Manohar Joshi was reluctant to vacate the seat.
Party leaders, however, suggested that his reluctance was more of a subtle expression of displeasure over not being informed about the party's plans and that it was first speculated in the media. The RSS also played a role and helped defuse tensions and get Joshi on board to contest from Kanpur instead.
But Modi confidante and BJP general secretary in-charge of Uttar Pradesh, Amit Shah, indicated that it was pressure from workers that got Joshi to vacate his seat. "Janta aur BJP karyakartao ka nirnay atal raha: Modi ji Varanasi hokar Delhi jayenge, Vande Mataram," Shah tweeted after the announcement.
Besides Modi and Rajnath, the BJP also announced that leader of opposition in the Rajya Sabha, Arun Jaitley, would contest from Amritsar and actor Kirron Kher from Chandigarh. It also renominated Shatrughan Sinha from Patna Saheb.
The BJP's fourth list of 93 candidates announced Saturday included 53 from UP and all five from Uttarakhand. While former Uttar Pradesh chief minister Kalyan Singh has decided not to contest, all three former chief ministers of Uttarakhand – Bhagat Singh Koshyari (Nainital), BC Khanduri (Pauri) and Ramesh Nishank (Haridwar) – have been fielded.
Former Madhya Pradesh chief minister Uma Bharti will contest from Jhansi and Kalyan …continued »