BJP's poll manifesto is for, by and of Narendra Modi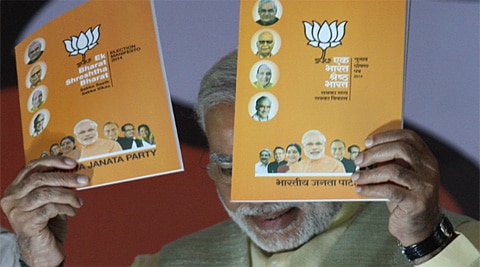 Several sections of the manifesto were also a throwback to the promises the party had made in Gujarat before the 2012 assembly elections. Neeraj Priyadarshi
The BJP finally released its 2014 manifesto Monday, and the document came with a definite imprint of the party's prime ministerial candidate, Narendra Modi, including three personal assurances by him — to work hard to the end, to never act in "bad faith", and to never act out of self interest.
In fact, the manifesto is so closely based on Modi's views that it seems like an expanded version of a document titled 'Vision of Modi' that was widely circulated at a BJP strategy meeting in January.
Several sections of the manifesto were also a throwback to the promises the party had made in Gujarat before the 2012 assembly elections.
ALSO READ: BJP promises, 2009 and 2014, Congress sees 'cut-paste' job
"The party has entrusted me with a certain responsibility. I want to make three promises personally — I will never be found wanting on hard work, I will not do anything for myself and I will not do anything with bad intent," Modi said at the launch of the much-awaited election document.
The idea of starting an IIT and an AIIMS in all states, a 'Beti Bachao' programme, building 100 smart cities besides focusing on twin cities and satellite cities, a golden quadrilateral of bullet trains – christened diamond quadrilateral in the manifesto – a price stabilisation fund to check inflation, a national agriculture market, preventive healthcare for all, besides the interlinking of rivers, were all part of Modi's "vision".
Even Modi's focus on "Brand India", which emphasises on what he calls the 5Ts – talent, trade, tradition, tourism and technology – finds a place in the manifesto.
While stopping short of announcing a special package for West Bengal and Bihar, the manifesto talks of regional disparities between the western and eastern parts of India, just like Modi has been.
One of Modi's newer ideas, expressed at an interaction with lawyers led by Ram Jethmalani, of developing India into a "global hub for arbitration and legal process outsourcing" is a part of the BJP's plans to overhaul the judicial system.
The manifesto also seemed to borrow liberally from the promises the party had made in the poll document for the 2012 Gujarat Assembly elections, including adopting the Gujarati slogan 'Sauno Saath, Sauna Vikaas' to the 2014 Hindi slogan of 'Sabka Saath, Sabka Vikas'.
The national manifesto promises to protect the cow and its progeny …continued »