BJP's Haryana dilemma: Rope in Om Prakash Chautala or stick to Kuldeep Bishnoi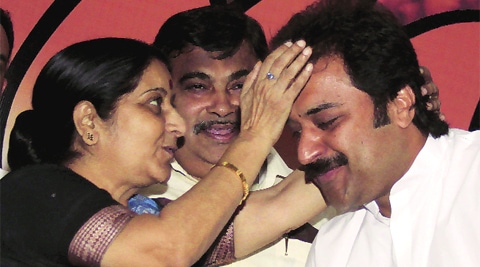 BJP leaders Sushma Swaraj and Nitin Gadkari with Kuldeep Bishnoi in 2011.
In its quest to capitalise on the anti-incumbency against the two-term Congress government in Haryana in the Lok Sabha polls, the BJP now finds itself in a catch-22 situation where its attempts at forging a pre-poll alliance with the Om Prakash Chautala-led Indian National Lok Dal (INLD) could end up jeopardising its existing alliance with Kuldeep Bishnoi's Haryana Janhit Congress (HJC).
While INLD has been ruling out an alliance with the BJP "till Bishnoi is there", HJC has made no secret of its plan to walk out of its alliance with the BJP in case the Chautalas were brought in. In fact, the HJC has not even ruled out an alliance with the Aam Aadmi Party (AAP) in case it has to leave the BJP.
With Lok Sabha polls in Haryana just a month away (the state goes to polls on April 10), backchannel negotiations between the BJP and the INLD have already begun, despite the BJP having maintained so far that its alliance with Bishnoi was "rock-solid".
Punjab Chief Minister Parkash Singh Badal, a close friend of Om Prakash Chautala, has already learnt to have pitched for BJP's alliance with INLD in his meetings with Narendra Modi and Rajnath Singh. While it is yet to go public with its intentions, the INLD, sources say, is hoping to ride piggyback on the BJP's performance and is looking to strike a bargain where it gets to contest on at least 4-5 seats of the total 10 parliamentary constituencies in the state.
But with INLD's two top leaders — former Haryana chief minister Om Prakash Chautala and his son Ajay Chautala — having been convicted in the infamous JBT teachers' recruitment scam and currently awaiting the Delhi High Court verdict on their petition challenging their conviction, a possible alliance with BJP now primarily hinges on whether the father-son duo get any relief from the court.
When contacted about his party's backchannel talks with the BJP, INLD's Abhay Chautala, who's been running the show ever since his father and brother got convicted, said, "It is difficult to say anything right now. All of this is speculation at the moment."
Till a few weeks ago, there were indications that BJP was likely to hang on to its alliance with Bishnoi, and give HJC two seats to contest on. But some friction appears to have emerged between the two parties over the selection of the two seats HJC gets to contest on. Sushma Swaraj's recent opposition to Venod Sharma's induction in the HJC, too, appears to have complicated things for this alliance.
By joining forces with the corruption-tainted Chautalas in a hurry, the BJP is also wary of giving the Aam Aadmi Party (AAP) a handle in Haryana. But a favourable court verdict for the Chautalas could change things. With the Bhupinder Singh Hooda-led Congress government, that …continued »