BJP welcomes tacit support of DMK chief's son Alagiri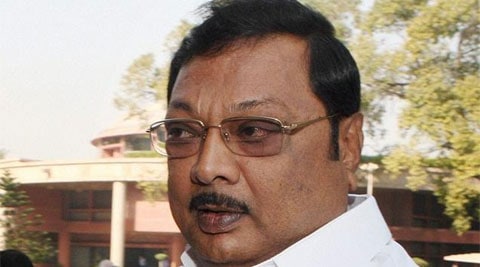 It is not definite that if Alagiri would pro-actively campaign for BJP in the upcoming Lok-sabha elections in Tamil Nadu.
Having altered the political landscape of Tamil Nadu by firming up a pre-poll alliance with five parties of the state for the first time, BJP today welcomed the tacit support of DMK chief M Karunanidhi's son M K Alagiri, saying it will help in formation of NDA government at the Centre.
Upbeat after stitching a multi-party alliance in Tamil Nadu, BJP believes it is in the reckoning in upcoming polls which has been turned into a triangular contest from the traditionally bipolar fight between AIADMK and DMK.
"With realignment of parties in Tamil Nadu, the coming together of DMDK, PMK, MDMK, IJK, Kongu Nadu and other groups, today the situation has completely changed in the state. There is a genuine triangular contest with the AIADMK as one pole, the DMK another and the third important pole being NDA," BJP general secretary in-charge of Tamil Nadu affairs Murlidhar Rao said here.
Rao, who was responsible for the tough task of bringing the Tamil parties together on the NDA platform, the BJP-led front has presence in all territories and social segments across the state and would have important ramifications for the future of Tamil Nadu politics.
He said since elections were being held for Parliament, an alliance led by a national party had an edge.
"In Parliament, even in Tamil Nadu people see BJP as the true alternative to Congress. A viable, stable government is possible in Delhi only when BJP is there. So in this situation the contest becomes even," he said.
Asked whether Alagiri's unhappiness with DMK could help BJP, he said NDA was being seen as a winnable combination and work from people who have got dissatisfied with DMK or AIADMK will be beneficial.
"Definitely we welcome that. We welcome every important person who takes a step towards NDA's victory in Tamil Nadu so as to give us a kind of good number of seats and ultimately it helps us in Delhi," he said.
Asked if Alagiri could pro-actively campaign for BJP or NDA, Rao said he could not say anything definite.
"I don't know what exactly he (Alagiri) is thinking about …campaign strategy involving Alagiri we have not discussed with other members," he said.
Rao said that in this election, DMK, though it had a strong cadre base, is a weak party.
He said people did not look at DMK as an agent of change since it has been a part of UPA which is blamed for misgovernance and corruption.
When asked whether BJP looked at DMK or AIADMK as probable post-poll allies, he said such discussion was not justified presently. He exuded confidence that BJP and its allies would get the desired numbers.
"Before the elections, discussing this itself is conceding we are not getting (required numbers). We are very …continued »