Muttalik in, Muttalik out: Facing bouncers, BJP dumps 'pub attacker'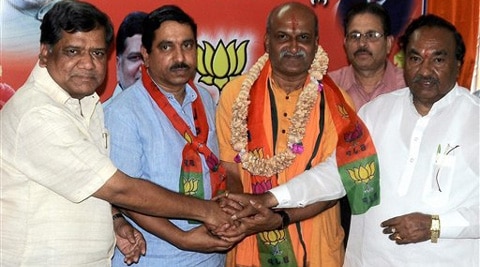 Muttalik was welcomed into the BJP at an official function in the north Karnataka town of Hubli on Sunday afternoon by state party chief Prahlad Joshi. (PTI)
The BJP was in for fresh embarrassment on Sunday as the party's Karnataka unit inducted controversial Sri Rama Sene leader Pramod Muttalik, only to set aside the decision within hours following public outcry and objections by party leaders.
Muttalik's extreme right-wing group, affiliated to the Sangh Parivar, is infamous for its role in a January 2009 attack on women at a pub in Mangalore for "protecting Hindu culture".
Muttalik was welcomed into the BJP at an official function in the north Karnataka town of Hubli on Sunday afternoon by state party chief Prahlad Joshi. After the function, also attended by former chief minister Jagadish Shettar, Muttalik said he was joining the BJP to make Narendra Modi the prime minister.
However, within hours, Muttalik's induction was withdrawn. "Due to various reasons, induction of Pramod Muttalik has been set aside under central party direction by state president Prahlad Joshi," BJP spokesperson S Prakash said in an official communication.
With Muttalik being a controversial figure on several fronts, including being an ardent admirer of Nathuram Godse, the killer of Mahatma Gandhi — a subject to which some of the political rhetoric has veered this poll season — the BJP national leadership feared the induction would harm its Lok Sabha poll campaign. The BJP and RSS had recently taken strong objections to Congress vice-president Rahul Gandhi's allegation of Sangh links in Gandhi's assasination. 
Goa Chief Minister Manohar Parrikar, who was in Nagpur to campaign for the BJP, was the first to oppose the induction of Muttalik. "They shouldn't do it, his membership should be cancelled. I have asked the central leadership that he should not be allowed to join," Parrikar said.
BJP general-secretary in-charge of Karnataka Thawarchand Gehlot took up the issue with Prahlad Joshi. "There was no prior discussion with the central leadership on this. I spoke to the state unit chief and told him that the central leadership does not accept this induction," Gehlot told The Indian Express.
Muttalik, who has been demanding a BJP ticket from Belgaum in north Karnataka, was inducted after he threatened to file his nomination from Hubli. Prahlad Joshi is the sitting BJP MP from Hubli and it was feared that Muttalik would cut into Joshi's votes in a region that has a strong right-wing presence.
Apart from Prahlad Joshi, party sources saw the hand of former deputy chief minister K S Eashwarappa in Muttalik's induction.
"Muthalik had demanded an Assembly ticket last year. This time he was demanding a Lok Sabha ticket from seats such as Dharwad, Belgaum or Udupi-Chikmagalur. It was rejected by the state unit. He had been in touch with Eashwarappa and, through him, sought unconditional entry to the BJP," a …continued »