Rahul seeks 'legal accountability' for 2002, disputes Narendra Modi 'clean chit'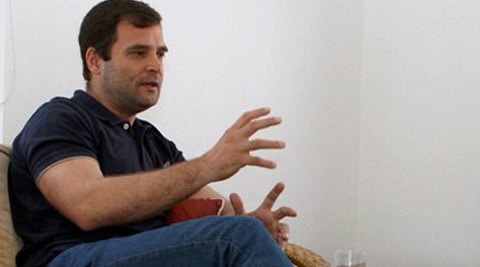 Congress Vice President Rahul Gandhi during an interview at his residence in New Delhi on Sunday. (PTI)
BY: M K Razdan
In his sharpest attack on Narendra Modi over the 2002 Gujarat riots, Rahul Gandhi on Sunday demanded "legal accountability" for the "clear and inexcusable failure" of governance during the violence, and dismissed talk of a clean chit to the BJP's prime ministerial nominee as "politically expedient" but "far too premature".
In an interview to PTI at his residence, the Congress vice-president said that Modi was answerable on moral grounds. "Beyond that there should be legal accountability for the clear and inexcusable failure of governance under him."
The BJP contends that Modi has been given a clean chit by the Supreme Court-appointed SIT and courts and, therefore, has nothing to answer or apologise for regarding the post-Godhra riots.
Asked about this, Rahul said: "As you know, the SIT report had been seriously questioned by a number of credible experts. Grave flaws have been pointed out in the functioning of the SIT. The acceptance of the flawed SIT report by the lowest court has not yet been subjected to judicial scrutiny by higher courts."
Referring to the Gujarat Chief Minister, he added: "The specific allegation and evidence pointing to Mr Modi's responsibility in the 2002 riots are yet to be adequately probed. Any talk of his having been given a clean chit may be politically expedient, but is far too premature. There are many unanswered questions. There is a lot more the country needs to know."
With the BJP bringing up the 1984 anti-Sikh riots whenever cornered on 2002, Rahul went a step further on the matter than he had done during a recent TV interview.
Asked why he, as the Congress vice-president, had hesitated during the TV interview to apologise for the riots which followed the assassination of his grandmother and PM Indira Gandhi in 1984, Rahul said, "The Prime Minister of the UPA has apologised and the president of the Congress party (has) expressed regrets. I share their sentiments completely."
Debunking opinion polls predicting heavy losses for the Congress, the party's chief campaigner acknowledged that there was a "certain amount of anti-incumbency against us", but maintained that the party would do better than 2009 when it had won 206 seats in the face of similar grim predictions.
Refusing to hazard a guess on the number of seats the Congress would win, Rahul said: "We will do well." He cited the UPA's various welfare scheme as its achievements.
Rahul added that he did not see the Aam Aadmi Party as a factor at the national level in the coming Lok Sabha elections. The new party had got an opportunity to run Delhi for which the Congress had given full support, he said. "They did not solve any of the problems they said they would. Frankly, they ran away… It is one thing to make large …continued »