BJP split wide open: Jaswant Singh hits out, Sushma Swaraj pained over denial of ticket to veteran leader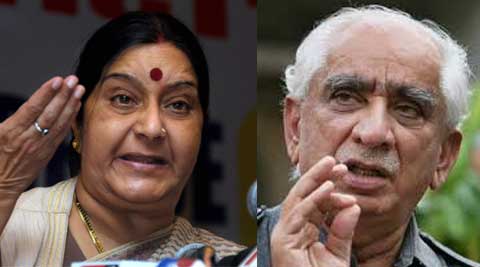 Jaswant asked his supporters to differentiate between 'real and fake BJP' while Sushma Swaraj expressed sadness over it.
Two days after L K Advani was virtually forced to accept the Gandhinagar ticket over his preferred Bhopal, two of his loyalists came out in strong protest against the decision-makers in the party.
Jaswant Singh, who was denied the Barmer Lok Sabha ticket on Friday, assailed the "encroachment in the party", and asked his supporters to differentiate between the "real and fake BJP". In Vidisha, Sushma Swaraj amplified the protest by Jaswant by describing the move as "asaadharan" (unusual), and expressing sadness over it.
Party president Rajnath Singh downplayed the apparent humiliation of Jaswant by saying his stature could not be measured merely in terms of the party ticket. But the BJP moved ahead to deal another blow to the Advani camp on Saturday by choosing actor Paresh Rawal over old Advani loyalist and seven-term MP Harin Pathak for the Ahmedabad East seat.
"We had set up a magnificent edifice that the BJP was an alternative to the misrule of the Congress. But now there is an encroachment in the BJP. Therefore, it is necessary to see who has encroached and why this encroachment has continued and is being promoted," Jaswant said in Jodhpur on Saturday.
"Barmer is not the only seat where an outsider has been fielded, there are several such seats across the country. I want to ask the leadership on what principles have the tickets been allotted," he said.
The BJP has chosen Colonel Sonaram Choudhary, who crossed over from the Congress this week, over Jaswant for the Barmer ticket. The decision was believed to have been taken jointly by Rajnath and Rajasthan Chief Minister Vasundhara Raje. 
Sources close to Jaswant said he was likely to resign from the BJP on Sunday, and file his nomination as an independent candidate from Barmer on Monday.
Hurtful to think this is not 'real' BJP: Jaswant
The veteran leader broke down before reporters and his followers in Jodhpur, saying, "It is hurtful to even think that this is not the real BJP." The "state and central leadership should reflect" on the "encroachment on the principles of the party", he said. "The party worker has to differentiate between the real and fake BJP."
In Delhi, the BJP president handed out a vague assurance that Jaswant's experience would be leveraged after the elections.
"Jaswant Singh is a senior leader of the party and we respect him. His dignity (pratishtha) cannot be measured in terms of tickets," Rajnath said. "We will utilize his services and experience appropriately."
Speaking to reporters in Vidisha, however, Swaraj revealed that the decision to deny Jaswant a ticket had not even been discussed by the …continued »