BJP hopes to upset political order in West Bengal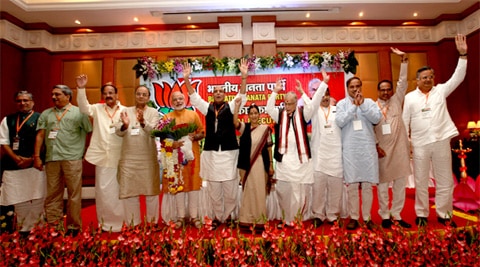 The saffron party made the breakthrough in the late 90s when it contested the Lok Sabha election in alliance with the Trinamool Congress. (PTI)
A minnow in West Bengal politics, the BJP hopes to upset all political calculation in the Lok Sabha election this time riding on a "pro-Modi wave", deciding to contest all 42 seats on its own.
Leaving no stone unturned to fulfil its objective, the party leadership has chosen candidates from diverse fields of art, music and magic, particularly those with a mass appeal, besides the regular politicians.
Thus popular music director and singer Bappi Lahiri, magician P C Sorkar, singer Babul Supriyo, actor George Baker find place in the candidate list side by side with leaders like S S Ahluwalia.
State BJP president Rahul Sinha told PTI, "In the entire state there are two waves – a positive wave for Narendra Modi and a negative wave of disgruntlement with the Trinamool Congress for failing to bring about the much-hyped "pariborton" or change."
Sinha is confident that the disgruntled voters will vote for the BJP en block and that his party will play the "game-changer" in the Lok Sabha poll.
Political analysts feel that the vote share of the BJP, which had secured about 12 per cent votes in the 1991 Lok Sabha election in the height of the Ramjanambhoomi movement, may further go up as projected by different poll surveys.
However, they feel, it is difficult to guess whether it would be translated into winning seats.
The saffron party made the breakthrough in the late 90s when it contested the Lok Sabha election in alliance with the Trinamool Congress.
Political parties also acknowledged that the BJP had emerged as a force to reckon with in the polarised state politics.
State Congress president and Union minister Adhir Ranjan Chowdhury admitted as much, "I cannot say that the BJP will not get votes. It is a force, but not a deciding factor. As an opponent we should not belittle the party".
Taking a serious note of the rising graph of the BJP and its role in splitting votes, TMC supremo Mamata Banerjee sharpened her attack against the saffron party in her election meetings urging the people to reject it.
"Don't vote for BJP as they are only interested in driving a wedge between Hindus and Muslims. The face of the Gujarat riots is the face of BJP. This is their real face," Banerjee said at an election meeting at Islampur recently without naming Modi.
Reacting to it, Sinha said, "She has realised that the BJP is posing more challenge than other parties. She is targeting BJP not without any reason. Her barbs should be aimed mainly against the main opposition CPI-M, but the CPI-M has gone behind the scenes. The target of attack of TMC is the BJP."
He said that the party …continued »