BJP has a Tamil Nadu front, if the allies do stick together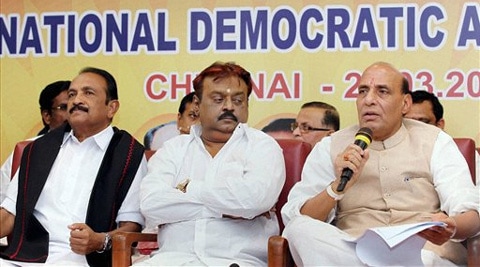 BJP president Rajnath Singh, DMDK President Vijayakanth and MDMK chief Vaiko at a meeting to make formal announcement on seat sharing for Lok Sabha polls, in Chennai. (PTI)
After manoeuvring through the congested Tamil Nadu political space for months, the BJP finally managed to stitch together a meaningful alliance to take on the two Dravidian majors. It is a coalition of contradictions, one with the potential to either upset the giants or unravel, depending on the ground-level coordination between the partners.
"This alliance will create new political history not just in Tamil Nadu, but nationally. We will all work together to form the next government at the Centre headed by Narendra Modi," BJP president Rajnath Singh said in Chennai Thursday after concluding alliance discussions with five parties — DMDK, PMK, MDMK, KMDK and IJK.
As expected, the principal opposition party, DMDK, led by Vijayakant, managed to corner the highest number of seats, 14 of the state's 39, while the PMK and the BJP got eight each. There were seven for the MDMK and one each for the KMDK and the IJK.
The BJP was initially eyeing a partnership with AIADMK, owing to the rapport between their leaders, especially between Modi and J Jayalalithaa. However, Jaya eventually sought to maximise her gains by going it alone rather than limit herself to a secondary role so early. That was when the BJP explored other alliances.
The first round of efforts were taken by political activist Tamilaruvi Manian, who held several rounds of informal talks with the regional parties other than the AIADMK and the DMK, culminating in the alliance today. It was he who received the highest applause from cadres of all the alliance partners when Rajnath formally announced the launch of an NDA in Tamil Nadu Wednesday.
However, despite having a strong reason to look for an alternative to the two Dravidian majors, efforts at bringing them all together on a single platform were drudging forward at the best of times, often beset with reversals, setbacks and roadblocks.
The main issue among the smaller parties was the common votebank for which they have been fighting against one another in the past.
The most serious among these was the competing interests of the DMDK and the PMK, two parties that have been at war since the formation of the former in 2005. Based on vote shares over the last few elections, political observers note that the DMDK has been a potential threat to the PMK by weaning away the intermediary caste votes, including from the Vanniyar community that is the fountainhead of the PMK. This is something that had become almost irreconcilable for the latter, especially its founder-leader, Dr S Ramadoss.
Though Ramadoss eventually agreed to the idea of exploring an alliance that would include the DMDK, apparently owing to the …continued »