Bihar is not caste in stone any longer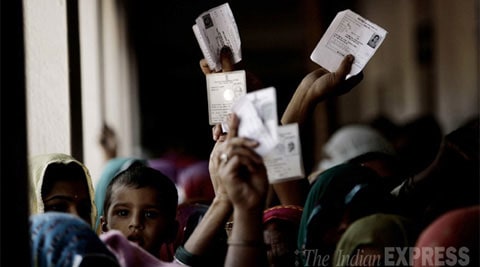 While Modi appeared to be breaching Nitish Kumar's stronghold among EBCs, the Bihar chief minister's decision to part ways with the BJP may not pay him the expected dividends as Muslims appeared to be split.
While the Congress harps on what it says is the "exclusionary" ideology of the BJP and its prime ministerial candidate Narendra Modi to turn the 2014 elections into a secular-versus-communal contest, people in Bihar seem to view Modi more as an agent of change than a face of aggressive Hindutva.
And his appeal appears to be transcending even age-old caste prejudices as a significant section of the OBCs and EBCs prepare to abandon their patron politicians to effect a change at the Centre.
Giving a haircut to one of his customers in his cramped, wooden salon in Gadhahani in Arrah district, Mahendra Thakur looked puzzled when asked about former home secretary R K Singh. "Who?" he asked.
He was unaware of the very existence of a union home secretary, not to speak of the bureaucrat who held the post previously and is now the BJP candidate here. Talk about elections and the barber was at ease.
"Oh, Modi ki chal rahi hai (Modi is leading). The BJP had brought the (donation) box. I also put a Rs 2 coin into it," said Thakur, who voted for the JD(U) in the last Assembly election.
A customer at a nearby cycle repair shop, Kamlesh Kumar Singh, explained this yearning for change in Sasaram, Aurangabad, Karakat, Arrah and other parts of Bihar.
"Diesel already comes for Rs 60 per litre and they increase it by 50 paisa every month," he said, adding how the cost of getting one bigha of land ploughed by a tractor has gone up from Rs 600 from Rs 400 in the past couple of years. Fertilisers, he said, have become equally expensive. A 50-kg sack of DAP was Rs 500 just three-four years back; today it costs Rs 1,400.
There was simmering resentment about the state of affairs, ranging from scams to price rise to unemployment, among others. Except Yadavs and Muslims, who seemed inclined to go for the RJD-Congress combine, all other castes and communities appeared to be reconsidering their options.
While Chief Minister Nitish Kumar's social engineering through mahadalits and EBCs had helped him sweep the last Assembly elections, it seemed to be cracking now, just as Lalu Yadav's base among non-Yadav OBCs.
While upper castes such as the Rajputs, Bhumihars and Brahmins voted for the BJP-JD(U) combine last time, they have abandoned the JD(U) now and have emerged as the most vocal supporters of Modi.
Yadavs had stayed with Lalu Prasad Yadav and Muslim votes had been distributed between the RJD-LJP combine, the Congress and, to a limited extent, the JD(U).
This time, the RJD-Congress combine seems to …continued »