Bihar: If Lalu resurgence was strong enough…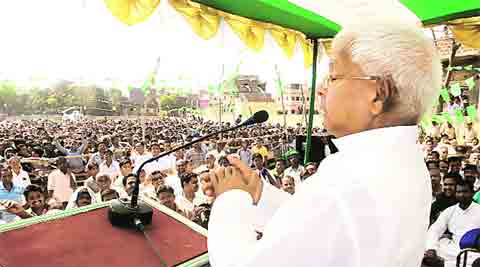 Lalu, knowing Nitish could "steal" the secularism versus communalism theme in the battle with Modi, played the religion card effectively. ( Source: Indian Express file photo by Ravi S Sahani )
From a fight between the JD(U) and the BJP, Bihar has become a Lalu Prasad vs Narendra Modi battle. Both campaigned extensively  and Lalu seems to have convinced the majority of the 16.5 per cent Muslims about his "unflinching secular credentials" as opposed to Nitish's "newfound" secularism after parting company with BJP after 17 years.
When it seemed caste would override everything else as usual in Bihar, Modi's connect with his audience seemed to have made a difference, particularly among young voters. On the other hand, RJD banked on Lalu Prasad's Muslim-Yadav (M-Y) consolidation with addition of some EBCs, Dalits and upper caste votes (especially in Maharajganj, Buxar and Vaishali where RJD fielded Rajput candidates).
Modi's candidature has generated youth support across caste lines, caused a tilt of EBCs (about 30 per cent of Bihar voters) towards BJP and weaned away some Yadav votes from Lalu. Pataliputra BJP candidate Ram Kripal Yadav's chances of getting a good chunk of Yadav votes is a case in point. If Lalu Prasad's daughter Misa Bharti loses from Pataliputra, BJP would have reasons to believe the party ate into Yadav votes.
Voters between 18 and 35 may tilt the balance in BJP's favour. If BJP retains Bhagalpur (Syed Shahnawaz Hussain), Darbhanga (Kirti Azad) and wrests Saran (where BJP's Rajiv Pratap Rudy contested against RJD's Rabri Devi), it can be attributed to youth surge in favour of BJP.
The biggest catch is EBC votes. EBCs, the biggest block, are scattered and seldom have a uniform voting pattern. BJP that played up Modi's caste may well have been able to convince a good part of this section. But moving in constituencies gave a sense that EBC votes was split three-way, between RJD, BJP and JD(U).
If BJPwhich was on tough ground at Seemanchal seats of Araria, Katihar, Purnea and Kishanganj, and Mithilanchal seats of Darbhanga and Madhubani wins some of these seats, it would suggest Modi factor was at work.
Lalu, knowing Nitish could "steal" the secularism versus communalism theme in the battle with Modi, played the religion card effectively with words like "butcher" for Modi. Though Lalu Prasad claimed RJD alone would win 24 seats, his worry ahead of results was from the question on which caste groups other than M-Y voted for him. Lalu cannot be sure if the extra votes were for him or Modi.
Nitish Kumar did not want to air his views in public until results are out. Privately, he banked on Mahadalits, non-Yadav and non-Vaishya OBCs and a big chunk of EBC votes. He believes majority of women voted for him to reward him for …continued »