Bihar BJP offers Narendra Modi seat, Joshi says party to decide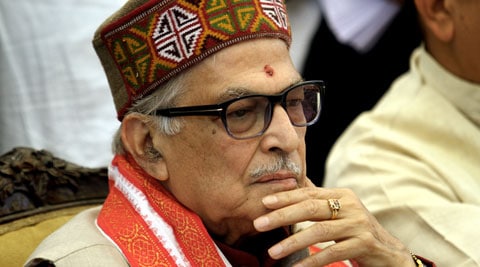 The sitting MP from Varanasi, Murli Manohar Joshi said he would accept the party's decision "like a disciplined soldier". (Express Photo: Ravi Kanojia)
As the confusion over the Lok Sabha seat Narendra Modi will contest from continues, the Bihar BJP has renewed its offer that the party prime ministerial candidate fight from Bihar.
Top Bihar BJP leaders, including former deputy chief minister Sushil Kumar Modi, have urged him to pick the state, to "further score over Nitish Kumar in his own den". The offer comes before Modi's Purnea rally on March 10.
In Delhi, senior BJP leader Murli Manohar Joshi broke his silence on the issue of the Varanasi Lok Sabha seat, which is one of the seats Modi is said to be considering. The sitting MP from Varanasi, Joshi said he would accept the party's decision "like a disciplined soldier".
Joshi spoke to reporters a day after he sought clarity at a party central election committee meeting on whether he would have to vacate the Varanasi seat or not.
"The party will take a decision which will neither dent the prestige of our PM candidate Narendra Modi nor compromise party's winning chances," he said, talking of the BJP parliamentary board meeting on March 13 to decide the Lok Sabha candidates for Uttar Pradesh.
Seeking that Modi choose Bihar, BJP legislature party leader Sushil Kumar Modi said: "We had requested him formally and informally before the October 27 Patna rally. We have not yet heard from him, and we extend the offer again. There could be obvious gains if he stood from Bihar. He can contest from any seat and win."
Since Nitish had severed 17-year-old ties with the BJP, "Modiji contesting from Bihar would have great symbolic value and give the party further psychological advantage", Sushil Kumar Modi said.
Asked about possible resentment from any party leader, including Shatrughan Sinha (whose seat Patna Saheb seat is among those being offered to Modi), the former Bihar deputy CM said: "Modiji is a PM candidate. Any party leader would vacate his seat for him gleefully."
Party national vice-president C P Thakur said the Bihar unit had always wanted Modi to contest from the state, preferably from Patna Saheb. "There have been such discussions at party fora. Things can move ahead only if we get a positive signal from Modiji."
At his press conference, Joshi refused to comment on the reservations he is said to have expressed at Saturday's central election committee meeting over losing the Vara-nasi seat. "I don't talk about such issues outside. …continued »