Yeddyurappa among 52 Bharatiya Janata Party candidates for Lok Sabha polls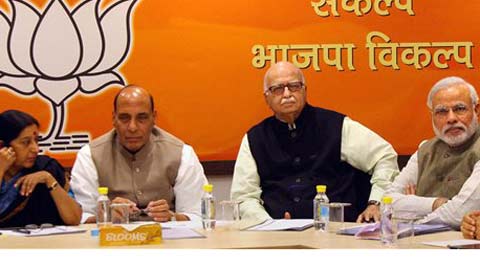 BJP President Rajnath Singh, party's Prime Ministerial candidate Narendra Modi, LK Advani and Sushma Swaraj at a meeting of the party's Central Election Committee (CEC), in New Delhi on Saturday. (PTI Photo)
Former Karnataka Chief Minister B.S Yeddyurappa, who had to quit the BJP in the wake of corruption charges and rejoined recently, is among the 52 candidates finalised by the party today for the upcoming Lok Sabha polls.
The second list of candidates covers six states of Karnataka, Odisha, Tripura, Kerala, Assam and West Bengal.
Among other prominent leaders fielded by the party include another former Karnataka Chief Minister D V Sadananda Gowda from Bangalore North, party general secretary Ananth Kumar from Bangalore South and journalist-turned-politician Chandan Mitra from Hoogly in West Bengal.
Yeddyurappa will contest from Shimoga in Karnataka, Ananth Kumar told a press conference while announcing the decision taken at the meeting of the party's Central Election Committee headed by BJP Chief Rajnath Singh, and attended by Narendra Modi, L K Advani and other top leaders.
71-year-old Yeddyurappa had to resign as Chief Minister of the state on August 1, 2011, after a corruption case was lodged against him by the State Lokayukta.
He quit the party in November 2012 and formed his own outfit Karnataka Janata Paksha (KJP), which contested the last assembly polls against the BJP and played a key role in its defeat.
The veteran Lingayat leader from the state, who wields influence on a considerable vote bank in the state, had led BJP to victory in the 2008 assembly elections thus forming the first BJP government in south India.
The BJP had released a list of 54 candidates in its first list on February 27. The next list would be released on March 13.
Odisha
BJP also finalised the list of its 57 candidates for Odisha assembly elections. Odisha will have elections for its 21 Lok Sabha seats and 147-member assembly in two phases on April 10 and 17.
In its second list, BJP finalised five candidates in Assam, 20 in Karnataka, three in Kerala, five in Odisha, two in Tripura and 17 in West Bengal.
In its first list, the party had finalised 17 each in Maharashtra and West Bengal, six in Odisha, five in Jammu and Kashmir, three in Himachal Pradesh and two each in Goa, Manipur and Arunachal Pradesh.
With its second list out, BJP has so far finalised a total of 106 candidates so far.
Among those fielded by the party in Karnataka, where candidates in 20 of the 28 seats have been declared, are sitting MP and state party president Prahlad Joshi from Dharwad. 12 sitting MPs have also been fielded, who include Ramesh Katti from Chikkodi, Suresh Angadi from Belgaum, P C Gaddigoudar from Balghat, Ramesh Jigajinagi from Bijapur (SC), Shivkumari C Udasi from Haveri, Ananth Kumar Hegde from Uttara Kannada, G M Siddeswara from Devanagere, Nalin Kumar Katil from Dakshina Kannada, Janardhana Swamy from Chitradurga (SC) and P C Mohan from Bangalore Central.
Former Ministers B.N Bachhegouda and Revu Naik Belamgi have been fielded from …continued »