'Beneath my dignity to clarify on NC claims of BJP alliance'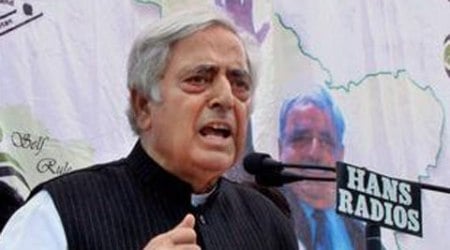 Mufti Mohammad Sayeed, however, was non-committal when asked if his PDP will join the NDA if the latter comes to power at the Centre. (PTI)
Opposition Peoples Democratic Party (PDP) patron Mufti Mohammad Sayeed on Sunday said it was "beneath my dignity" to respond to the claims of ruling National Conference that his party had a 'secret alliance' with BJP for the ongoing Lok Sabha polls.
"My record is clean. It is they (National Conference) who expelled Saifuddin Soz from the party for voting against BJP. They were an ally of the BJP when 2002 riots took place (in Gujarat). Omar Abdullah was in the (NDA) cabinet at that time," Sayeed told reporters here.
He said opportunism "is their trait, not mine. It is beneath my dignity to say this or that. Why should I give a clarification…I feel bad about it".
Sayeed said when his party had entered into an alliance with the Congress, it took them a month to form the common minimum programme.
"They (NC) did not take even an hour. Even the father and son did not know who is going to be (the Chief Minister). The son was called (by Congress) and he became (the CM)," he said.
National Conference leaders have accused the PDP of entering into a secret alliance with the BJP for the ongoing Lok Sabha polls, which PDP has countered by saying that the NC was spreading baseless rumours about the opposition.
Omar Abdullah and Farooq Abdullah during their election campaigns have alleged that PDP was acting as the 'B-team' of the BJP by fielding candidates in Jammu for splitting the "secular vote".
Sayeed, however, was non-committal when asked if his PDP will join the NDA if the latter comes to power at the Centre.
"You should not tell me that…We have an issue to resolve. If we get the people's mandate, the number does not matter as it is the quality. There is a trust deficit that needs to be addressed," he said.
The former Chief Minister of Jammu and Kashmir said his party is clear in its stand that it will have to work with everyone at the national level for resolution of Kashmir issue.
"Ours is a regional party and we have issues which we have to deal with the entire country. If you want to resolve Jammu and Kashmir issue, we need support from every party," he said.
Sayeed said whichever formation comes to power at the Centre, will have to start a dialogue for resolution of Kashmir issue.
"There is no other way. Our external affairs policy has maximum focus on Pakistan…our internal policy, maximum focus in on Kashmir. So I don't see there can be any other way…dialogue has to be started," he said.
Sayeed accused National Conference of engineering "selective boycott" in parts of south Kashmir parliamentary constituency on the polling day on April 24.
"However, people saw through the design and have voted for PDP. This election is a precursor for the assembly elections and people …continued »