Battleground Amethi: Congress faces a tough contest from AAP, BJP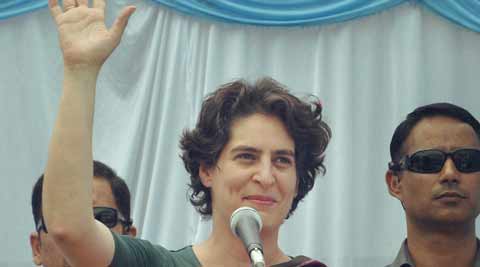 Congress has rarely faced a contest here. Not this time, as the the BJP's Smriti Irani and AAP's Kumar Vishwas take on Rahul Gandhi. (PTI)
The Congress has rarely faced a contest here. Not this time, as the the BJP's Smriti Irani and AAP's Kumar Vishwas take on Rahul Gandhi. Devyani Onial visits Amethi and finds voters asking more questions of the Gandhis than ever before
The stage is set for Priyanka Vadra at Deeh in the Lok Sabha constituency of Amethi. In between, to fill in time, local Congress leaders and loyalists make enthusiastic speeches. Rafiq Warsi, popularly known as Allu mian, regales the audience with a poem that speaks of the Gandhi family's "love" and "ties" with Amethi, before moving on to the "treachery" that's afloat in the constituency. "Magar ab ki thoda sa badla hai mausam/Aur chunauti dene ayein hain zaalim (There is a change in the air/And the cruel have come to challenge us).'
The zaalim, he underlines, in case someone has missed the point, are those contesting against Rahul Gandhi in Amethi. He has barely finished his poem when the attention of the crowd turns from him to Priyanka striding in. They crane their necks to get a better look at her and fall silent as she speaks. "Have you been waiting for long? Two hours? Aur aaj toh dhoop bhi hai (It's a hot day). But you have waited because of your love for us," says Priyanka, dressed in a navy blue sari.
PHOTO Gallery: Battleground Amethi: Tripartite struggle between Congress, AAP and BJP
In her speech, she talks of how Rahul is a doordarshi (visionary) like their father. She also acknowledges the villagers' concerns about bad roads and errant electricity supply. "There are some hurdles but that's not because we lack intent. It's because of some state-Central issues." She reaches out across the barricade, shaking hands with people before making an exit. Her handshakes dominate conversations long after she has left.
At a village near the Dalit-dominated Chakna Nampur, which is Priyanka's next scheduled stop, people sporting Congress scarves and caps stand around. Congress supporters, aren't they? "Wearing a cap doesn't mean you are going to vote for that party. Matdan ka matlab hota hai apna mat dena (Your vote is yours)," says an elderly man sporting a Congress cap.
At another marketplace, villagers animatedly discuss the May 7 elections. "Rahul will win but his margin will be lower. Is baar sabak sikhake jitayenge (He will win, but we will teach him a lesson)," says a youth.
In the last Lok Sabha elections, Rahul won with 4,64,000 votes, the BSP's Ashish Shukla came a distant second with 94,000 votes and the BJP's Pradeep Kumar Singh got 37,500 votes.
Nasirabad is Priyanka's last stop of the day. There is a festive air about the village, party flags flutter in the hot breeze, Youth Congress members shout slogans …continued »