Baramulla: Heavyweights concerned as small parties eye vote pie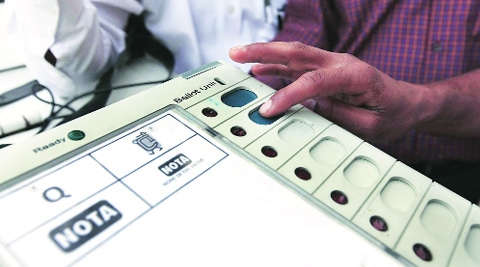 Of the 1,616 polling stations here, only 80 have been declared 'normal' while 1,091 have been declared 'hypersensitive' and
445 as 'sensitive' by Election Commission.
The main battle in this largely 'hypersensitive' Lok Sabha seat may be between the candidates of ruling National Conference and Opposition PDP, but the presence of some minor aspirants who may cut into their votes has raised the stakes for the two arch-rivals.
The constituency, which is going to polls on May 7, has an electorate of 11.51 lakh, including 5.45 lakh women. Of the 1,616 polling stations here, only 80 have been declared 'normal' while 1,091 have been declared 'hypersensitive' and 445 as 'sensitive' by Election Commission.
Apart from sitting MP Sharief ud-din Shariq of NC and PDP's Muzaffar Hussain Baig, a former deputy chief minister of Jammu and Kashmir, other candidates who may count in the May 7 polls here are — the Peoples Conference's (PC) Salamuddin Bajad and Awami Ittehad Party (AIP)'s Abdul Rashid Sheikh.
PC is led by Sajjad Gani Lone, who dabbled in separatist politics for nearly two decades before joining mainstream political process in 2009, and the party is said to have a significant following in some pockets of Baramulla constituency. The newly-formed AIP, too, can count on some votes in its favour here.
PDP and NC candidates would, therefore, be keeping an wary eye on their smaller rivals, especially sitting MP Shariq who is reportedly facing some discontent among the ranks of alliance partner Congress, which may hamper his chances of winning again from here.
Shariq will be banking on a three-way split in the anti-incumbency votes to retain the seat.
Congress workers are reportedly peeved over some differences which cropped up between them and NC and are said to have desisted from voting en masse for alliance candidates in south Kashmir. It is likely that Congress workers will repeat the south Kashmir pattern in this constituency.
Baig, the sitting MLA for the Baramulla Assembly seat, is said to enjoy considerable support here and would be banking on the anti-incumbency factor against Shariq. The Baramulla constituency is spread over the three districts of Baramulla, Kupwara and Bandipora. It comprises 15 assembly seats of which seven went to NC in 2008. PDP has five legislators here while Congress has a lone MLA. Two Assembly seats were won by Independents.
In the 2009 elections, Shariq had polled a total of 2,03,022 votes and defeated his main rival, PDP's Mohammad Dilawar Mir, by a margin of 64,814 votes. PC founder Lone, who also contested the polls in 2009 after parting ways with the Mirwaiz Umer Farooq-led Hurriyat Conference, stood third with 65,403 votes. Many believe that Lone had then split the anti-NC vote and helped Shariq sail through.
Lone enjoys a sizeable influence in Kupwara district and his rallies in the region have attracted huge crowds, …continued »