Back to riots village, to keep Narendra Modi out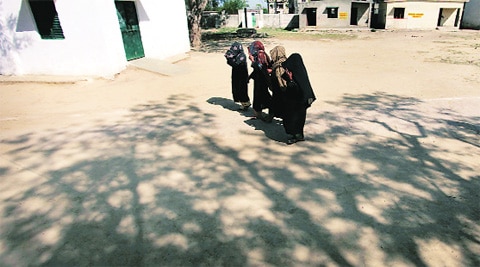 Women voters leave a polling station in Joula on Thursday. (Photo: Oinam Anand)
Months after she had joined a camp in Joula during the Muzaffarnagar riots, this rape victim made the journey she had so far been avoiding — back home to Fugana, which she had fled, but which she could not avoid now because she had to cast her vote to "stop Narendra Modi from taking over Uttar Pradesh".
The woman, 30 and married at 19, travelled in a tractor with 46 others from Joula for the first time since September, when she had filed an FIR against six neighbours for rape, assault and attempted murder. Of all villages, Fugana had seen the highest number of FIRs relating to the riots.
With 800-odd others in the camp, she had filled a form for a fresh voter card. When cards were distributed two days ago, she was among 300 left out.
The woman reached the Joula polling booth by 7 am. When the poll staff made it clear she could not vote around the relief camps, she flinched at the prospect of driving to Fugana, 3 km away. All the men she had accused roam free despite a medical examination confirming genital injuries, and her statement being recorded before an SDM. After a meeting among the women and some elderly men, she agrees.
"If we don't vote, Modi will come to power and then what will happen to us Muslims? We have to stop Modi from coming, and we have to be brave for that," she said.
After calls to local officials made it clear the administration wouldn't provide transport, the villagers brought in two tractors and she boarded one with her husband around 10.30 am. She said most people still don't know "about my case". "I would be ostracised if women here knew I filed a rape complaint," she said.
Through the journey the group discussed the elections. "What will happen if the BJP comes to power?" "Does Mayawati mean what she says for Muslims?" "Rahul Gandhi likes Muslims but does not come to UP." "He is just a boy."
The rape victim did not say whom she would vote for. The group seemed to be behind the SP government for "saving our lives".
They reached Fugana by noon. It looked different with a police and paramilitary presence, the masjid burnt, and only one Muslim family still there. They found their names were in the voter lists but their slips were not at the booths. Queuing behind her husband, she was told to "go home and check, the voter slip must have reached your home in the village". "Are they joking? Our homes are burnt," she muttered.
As more and more of the displaced returned home to vote, she and three others, Shabnam, Haseena and Nafisa, decided to go to the house. "This is where I came as a bride, and where I …continued »