Azam Khan's Kargil remarks come in for sharp criticism from all sides
Statement of Azam Khan is an insult to Indian soldiers, said Ravi Shankar Prasad.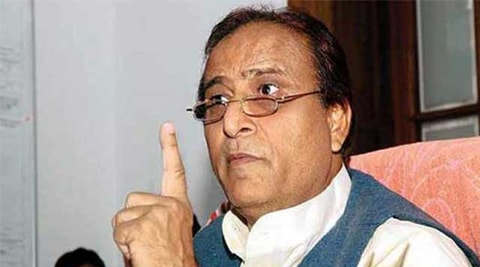 Senior SP leader Azam Khan. (PTI)
Senior SP leader Azam Khan on Wednesday came under fire from all corners over his statement that it was 'Muslim soldiers' who fought for India's victory in the 1999 Kargil war against Pakistan. Even as the Election Commission, taking suo motu cognizance, issued a notice to the controversial leader, leaders across political parties condemned the statement and demanded action against the UP minister.
This is how the political spectrum reacted to the statement:
Ravi Shankar Prasad, BJP: "Nothing can be more unfortunate than the fact that soldiers who sacrificed their lives are being categorised based on religion just for votes. This is demoralising for the Army personnel."
Sudhanshu Trivedi, BJP spokesperson: "This is election time and the EC has responsibility to conduct the polls impartially. Security forces have a crucial role to play in the elections. If any body tries to do communal politics over security forces, then it will have a serious repercussion on electioneering… The EC, keeping this in mind (Khan's statement on Kargil conflict) should take it seriously and initiate strong action against SP immediately. Statement of Azam Khan is an insult to Indian soldiers."
Shivpal Yadav, SP: "In the army as well as during the freedom struggle all including Hindus, Muslims, Sikhs and Christians were one and fought together and achieved success with the support of all… But when any one section of society is neglected it feels the pain, when the aspirations are not fulfilled they feel the pain. He could have made his thoughts public but he as well as Samajwadi Party are together for the interest of nation as well as society."
Maulana Khalid Rashid: "Mixing Army and politics will be detrimental to society and governance, Pakistan is an example of it. Army should be kept above politics, would be in best interest of the nation-Maulana Khalid Rashid on Azam Khan."
KC Tyagi, JDU: "Azam Khan Musalmanon ke Narendra Modi ban na chahte hain."
Alka Ahuja, Wife of Squadron Leader Ajay Ahuja (Kargil Martyr):  "I felt very bad about this statement, just not right."
Azam khan needs explaining that there r people in this country who put country n duty first and think of thmslvs first as indians !

— Rajeev Chandrasekhar (@rajeev_mp) April 9, 2014
Everybody should condemn #Azam khan for communalising the armed forces for politics

— Prakash Javadekar (@PrakashJavdekar) April 8, 2014