At site of fresh caste wars, Nitish feels the heat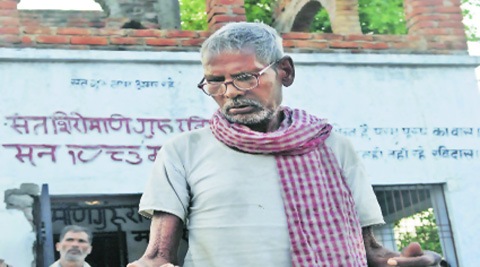 Mangru Ram has lost use of his arms. Prashant Ravi
Mangru Ram (75) had to get steel rods implanted in his arms after he was attacked by some upper caste men with bats last August. He can't lift his arms anymore, even to put food into his mouth. Ram had invited their anger for unfurling a flag just in front of the Sant Ravidas temple in this Rajput village of Baddi, 13 km from Sasaram district headquarters.
Two elderly Scheduled Caste villagers lost their lives in the attack — the first in the state following the ruling JD(U)'s split from the NDA — while over a dozen were injured. Baddi upper castes stopped employing men and women from the Ravidas community in their fields after the violence.
A police picket now stands next to the Ravidas temple, giving a sense of security to Mangru Ram and fellow members of the community. Baddi has 80 Ravidas (SC) and about 400 Rajput households. A team of nine constables and two head-constables is on duty to ensure peace among the castes.
With elections near, the uneasy truce is, however, showing a strain. Chhote Lal Ram's son Rahul (14) had lost his voice on being thrown from the temple roof in the August 2013 attack. "It is not just about my son losing his voice, they want Dalits to lose their voice. We do not discuss elections and candidate preference openly," says Chhote Lal.
With the Rajputs siding with the BJP, the two castes find themselves on opposite sides of the split NDA. And in Baddi and surrounding Dalit villages, there is no Mahadalit factor working for Nitish Kumar, despite the assiduous wooing of the castes falling in that grouping by the Chief Minister. The SCs, earlier Nitish supporters, have instead switched their loyalty to the Congress's Meira Kumar.
Over 25 people gathered near the Ravidas temple show the statue of Sant Ravidas broken during the clash and cautiously say that they had been great votaries of Nitish's welfare schemes for deprived sections but that this won't translate into votes for the JD(U).
"Since the JD(U) has fielded a weak candidate in former bureaucrat K P Ramaiah, we have got to support the Congress's Meira Kumar. The BSP's Baleshwar Bharti has been also trying to woo us but we have almost made up our mind to vote for Meira, more so because Rajputs are most likely to vote for the BJP," says Kashinath Ram, who introduces himself as the Kaimur district president of the Akhil Bhartiya Ravidasiya Dharma Sangathan.
"When it was the NDA, there was no issue because both Ravidas and Rajputs leaned towards the NDA," adds Ram.
A policeman washing his clothes near the temple admits to the raised tensions. With all 12 of the personnel at the picket forced to share one room, life has not been easy for them, he complains.
Nagina Ram and Kedar Ram, Ravidas community members …continued »