As liquor flows, voters in Andhra Pradesh party at the expense of political parties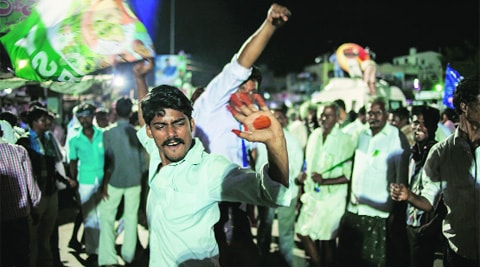 Cash, liquor slips are distributed at rallies. Harsha Vadlamani
It is peak summer in Seemandhra and Telangana and you would think water supply is high on the list of demands of voters ahead of the elections, until you run into some at public meetings and road shows and realise they are high on other liquids.
Liquor, it seems, is flowing freely as voting day for the simultaneous Lok Sabha and assembly polls nears. Candidates are offering so much to drink that men, young and old, and even women are having a gala time, so much so that they end up making complete fools of themselves in public.
Parties that are in do-or-die battles are wooing voters by offering them whatever they want and liquor is on top of the list. And unlike in the past, liquor distribution is no longer confined to the "local organiser" of a candidate surreptitiously paying for a few drinks or a couple of cartons of cheap whisky bottles at the corner shop for the supporters of his boss.
Now, when candidates go to campaign, their sidekicks give paper slips to men and women. The name of the liquor shop and the number of bottles to be given is mentioned on the slip. The number depends on how important the voter is. The candidate on whose behalf the slips are issued settles the bill presented by the liquor shop at 11 pm every day.
And depending on the number of candidates in the fray, voters carry loads of these slips in their pockets and don't stop drinking even if they have reached their limit. Since it is free, and since they will get more slips tomorrow, it is mass binge drinking.
If a road show or a public meeting is to be held at a particular location, liquor slips and a Rs 500 note is passed on to voters to ensure their presence. The situation becomes amusing when the arrival of the candidate is delayed.
"Those who have gathered have already finished their bottles and their interest in waiting for the public meeting starts to wane. So another round of paper slips is passed. The more the delay, the more paper slips,'' said B Ravinder, a cable TV operator who was mobilizing "supporters" for TDP Lok Sabha candidate K Rama Mohan Naidu's road show in Srikakulam town.
Spirited voters have often been seen losing their sense of decency in public, including men with their lungis coming off but clutching bottles and plastic glasses staggering around asking why others are staring at them.
At a TRS public meeting in Nalgonda, a group of drunk youths kept interrupting TRS chief K Chandrasekhara Rao. They initially cheered KCR lustily but then started heckling him. KCR first asked them to stop the "Jai Telangana" slogans so that he could resume his speech, then realised the youths were demanding something else and snapped at them.
It transpires the local CPI …continued »