Ahmedabad |
Updated: March 6, 2014 8:57:32 am
Hours after Lok Sabha elections were announced, members of the Aam Aadmi Party and the BJP came to blows on Wednesday evening in Gujarat, Delhi and Lucknow. 
In Gujarat, BJP supporters damaged AAP leader Arvind Kejriwal's car. In Delhi and Lucknow, workers of the rival parties threw stones and chairs at each other, attacked each other with sticks, and shouted slogans.
Clashes began after Kejriwal was briefly detained in Gujarat as he began a four-day tour to "assess" development in Narendra Modi's home state. Around 3 pm, when he was at his third stop at Radhanpur in Patan district, he was taken to the police station for an alleged violation of the model code of conduct.
As Kejriwal demanded to see official papers, his supporters staged a dharna outside the police station, shouting anti-Modi slogans. Kejriwal was let off after 30 minutes, after which he drove around in an open jeep with slogan-shouting supporters in tow, before proceeding to Kutch.
There, at Kharoi village in Bhachau, he was greeted with black flags for the fourth time since arriving in Gujarat. A flag mast was later thrown at Kejriwal's car.
As news of Kejriwal's detention spread, AAP leaders in Delhi and Lucknow sent out bulk text messages to their supporters, calling them to join a protest outside the BJP offices in the two cities at 5 pm.
In Delhi, the protest began around 5.30 pm with 30-odd AAP supporters shouting anti-Modi slogans, but quickly turned ugly after some volunteers tried to pull down a hoarding on the wall of the BJP office, while some others tried to storm the office compound. A large group of BJP workers gathered on the other side of the gate shouted slogans against Kejriwal.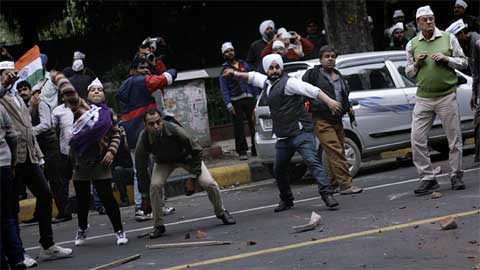 Soon afterward, BJP supporters carrying party flags and canes appeared outside the office and clashed with the AAP volunteers. Police turned water cannons on the mob, but the violence escalated, and both sides threw stones, lathis and chairs at each other.
Police said some 10-12 passersby who were caught in the crossfire suffered injuries on their hands and heads.
Senior AAP leaders including Ashutosh and Anand Kumar — both candidates in the Lok Sabha elections — former Delhi minister Rakhi Birla, and Shazia Ilmi too joined the protest. Ilmi denied that AAP supporters were responsible for the violence, and said the protest was a reaction to the detention of Kejriwal in Gujarat.
"His rally did not have any banners or flags. He was just meeting people. The rally had been planned in advance. How is it a violation of the model code of conduct?" Ilmi asked.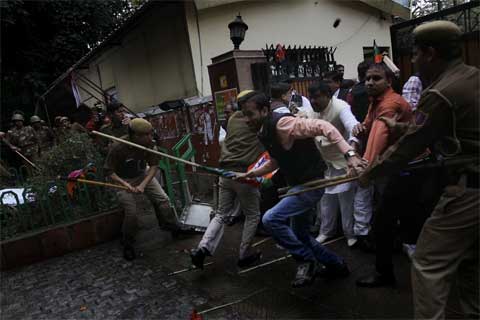 In Lucknow, about 40 AAP workers reached the state BJP office for a "candlelight" protest against Kejriwal's detention. "We had planned to light candles outside the gate and leave a 'Get well soon, Modi' bouquet there. But before we could even reach the gates, Bharatiya Janata Yuva Morcha (BJYM) workers attacked us," alleged AAP's Lucknow secretary Vishal Vikram Singh, who sustained injuries.
BJYM state vice president Raghvendra Tiwari, however, accused AAP workers of entering the party office and throwing stones. "Obviously when somebody attacks your home you try to defend it," Tiwari said.
The outnumbered AAP workers were allegedly brutally beaten with sticks, and punched and kicked. "Each one of us was surrounded by three or four BJP workers," Singh alleged.
An AAP worker was seen being attacked by nearly half a dozen BJP workers with sticks. Eight AAP workers were seriously injured; another three or four sustained minor injuries.
Additional SP (East) Rajesh Kumar said cross-FIRs had been registered against unidentified persons at Hazratganj police station on complaints from both sides.
AAP's Prashant Bhushan said, "We apologise on behalf of some of our volunteers who threw stones back at them (BJP workers). In our nation's democracy, there is no place for violence. In our party's culture, there is no place for violence. We appeal to our volunteers across the country to not engage in any kind of violence."
BJP president Rajnath Singh appealed for calm while condemning the AAP's "violent protest".
"I strongly condemn the AAP's violent protest at the gates of BJP office today in Delhi. It shows AAP's undemocratic and anarchist character," Rajnath said in a statement.
For all the latest India News, download Indian Express App